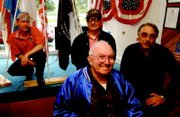 THE DALLES — Each summer about this time, the Hood River Valley Swim Team gears up for its biggest meet of the season: the Eastern Oregon District Meet.
But this year was slightly different for coach Shelly Rawding's crew. Different in a good way.
A record number of 43 local swimmers participated in last weekend's district meet, helping HRVST to a fourth-place finish among girls teams and a fifth place among boys teams.
Teams from Pendleton, La Grande, Redmond and The Dalles joined Hood River at the meet, and all who attended made their best attempts to set those elusive personal records.
Meanwhile, six swimmers placed in the top five in their respective age groups, earning a ton of points for HRVST in the process.
Twelve-year-old Erin Jones of White Salmon won three of her four events (200 IM, 200 free and 50 breast), setting PR's in each event and taking second place overall in the 11-12 girls division.
Teammate Sophie Oswald also took second place overall, winning the 8-and-under girls 50 fly and 50 breast, and placing second in the 50 back and 100 free.
Meanwhile, Justine Rawding placed second overall in the 15-18 girls division, with wins in the 100 back, 200 IM and 100 breast; and Jessie Robertson placed third overall in 9-10 girls competition with a first (200 free), a second (50 free), a third and a sixth place.
On the boys side, Scott and Matthew Bergstrom were the standouts, placing third and fifth, respectively, in 8-and-under boys competition.
Scott, 8, won the 50 breast and finished third in both the 50 back and 50 free. Matthew, 7, placed third in the 50 fly, fourth in the 200 IM, and fifth in the 50 breast.
Aside from the six overall place winners, the rest of the team performed exceptionally well, with every swimmer able to earn points for the team.
Ariel MacMillan, who will be a sophomore at Hood River Valley High School in the fall, earned two second places (200 IM and 100 breast) to go with a fifth in the 100 back.
High-school teammate Kelsey Hale earned a sixth place in the 100 fly, a seventh in the 200 IM and an eighth in the 200 free, while HRV junior Louis DeSitter scored points in the 100 breast (4th place), 200 IM (5th), 100 free (7th) and 100 fly (7th). Also representing the high school was Nicole Shames, who placed sixth in the 400 free.
Additional standout efforts were turned in by Adi Robertson (one 3rd, three 4ths in 13-14 girls); Summer Smalley (4th, 5th, 6th, 7th in 9-10 girls); Fatima Valle (two 5ths, 7th, 8th in 13-14 girls), and Haley Zaik-Hodgkins, who won the 9-10 girls 50 back.
HRVST also totaled a number of other top-10 finishes last weekend, including Sarah Brending (7th, two 8ths in 11-12 girls), Tyler Jones (5th, 7th, 9th in 13-14 boys), Jacob Rawding (6th in 8-and-under boys), and Mariah Rawding (3rd, 4th, 5th in 8-and-under girls).
The fall/winter club season will begin soon. If you have questions, call Shelly Rawding at 509-493-4679.