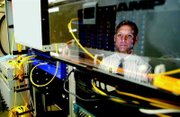 Families in the Park opened its 2003 season Thursday with perfect weather and a great crowd. Young and old alike turned out to hear Swingline Cubs perform danceable music for every taste.
Lead singer Ruppert Blaize mingled with the crowd and female singer Tarshene invited kids on stage, getting the crowd involved in the music. As usual, there was lots of dancing in front of the stage.
This week the Knott Bros. will bring their bluegrass sound to Jackson Park on Thursday, beginning at 7 p.m. and performing until 9. This five-piece band has an acoustic sound that earned them 3rd place in the 2000 International Bluegrass band competition.
The evening will begin at 6 p.m. with a fundraising fajita dinner for New Parent Services, which will be served well into the evening. Other food vendors will be available including Eagles Auxiliary, who will be selling ice cream cones.
On stage as warm-up act for Knott Bros. will be the 4-H Mid Valley Mexican Folk Dancers, 6:15-6:45 p.m. In addition, Hood River Valley High School music students and parents will be selling t-shirts to benefit the HRVHS music department.
Sponsoring this week's event are PacifiCorp and Gorge Networks. These and other businesses make it possible to enjoy Families in the Park free of charge.
Upcoming acts are national jazz recording artist Tom Grant, Aug. 21, and Satin Love Orchestra, a 10-piece band playing '70s sound, performing the final Families in the Park concert on Aug. 28.