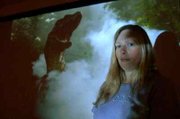 Hood River City Police Officers have a new, high-tech weapon to use in their fight against crime.
The local agency has scored a $112,000 Cops More grant from the U.S. Department of Justice to install laptop computers in all patrol cars. The city is required to pay $37,000 in matching funds for the new equipment.
The portable terminals will enable officers to use the stroke of a keyboard to check for outstanding warrants. They will also be able to access Department of Motor Vehicles records. In addition, police can look up case files and update incident reports without sitting at their desks.
"The main idea is to streamline the duties of our officers — everything we do in the office can now be done in the car and that leaves more time for patrolling the streets," said Capt. Kevin Lynch.
For example, he said a patrol officer may observe a subject walking down the street who has recently been jailed. If that individual is wanted for a probation violation, Lynch said police will know almost instantly after making an electronic inquiry. In addition, he said color photographs can be downloaded within seconds to resolve scenarios where an individual is suspected of using fake identification. He said the instant availability of information will be especially useful on weekends when the high volume of radio traffic keeps dispatchers scrambling.
"With this computer, an officer can check as many things as he/she wants without tying up the system," said Lynch.
He and Lt. Jerry Brown traveled to California in February to learn about the new Justice software by CMI that is offered with the machines. They will train other officers on the many functions available with the Panasonic Touch Books. The portable terminals are made to avoid jarring and specially sealed for protection against dust and moisture.
Lynch said three of the new computers are already in place and, once the start-up tests have been completed, the remaining models will be installed and linked to the county dispatch center. He said an added benefit of the program is encrypted text messaging that allows sensitive information to be relayed to dispatch without it being broadcast over the air waves.
The custom law enforcement software also provides access to a database of stolen weapons, evidence files and HAZMAT response instructions. In the future, Lynch said the computers will be outfitted with GPS mapping that will help emergency responders locate pertinent data, such as the location of fire hydrants and the physical addresses of reporting parties.
"We need this technology to keep up with Hood River's growing population but it would be impossible without this grant," Lynch said.