Wednesday, August 13, 2003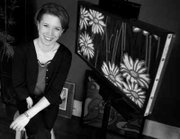 The building is gone, but the memories are forever.
Think "Fun with Dick and Jane."
Barrett School was a brick schoolhouse complete with bell tower and iron fire escapes. It had a wonderful playground, with enormous oaks and traditional merry-go-round, teeter-totters and high slide. Its back field included tennis courts and hanging bars and a row of poplars on the west side, perfect for making forts.
It was an old school with old-school methods — teachers were given plenty of leeway with discipline tactics. The longtime teaching principal, Mrs. Yeck, is remembered for her knuckle-rapping, and even as late as 1966 at least one teacher was still using physical "aversion therapy," in the form of a pinched ear, cheek or chin, or a few thumps on the head.
Even for the well-behaved there was a source of anxiety — the dreaded fire drill. For students (or pupils, as they were known then) on the second floor, it meant climbing out of a window onto a see-through iron grate landing and then making a white-knuckle descent down the see-through iron grate steps, which rattled and shook from the load of an entire classroom.
Barrett was built in 1910 and taught grades 1 through 8 until 1956, when it became a school for 4th-6th grades (grades 1-3 were subsequently sent to Oak Grove or Frankton and 7th and 8th grades to then-Mid Valley Junior High.) Then in 1969, it ceased to be used altogether when Westside Elementary School was completed, and two years later was destroyed by fire. All that remains of the school today are a few stacks of bricks and portions of the basement walls, and the covered play shed, now serving as a barn.
The Barrett reunions began when the Wy'east class of '52 was having one of its reunions and realized a few significant people were missing — ones they'd gone through Barrett with. Efforts were made to contact everyone and it was decided that they would hold a special reunion for Barrett alumni, the first being in 1993. They have been held bi-annually ever since.
Over time the event has been expanded to include everyone who ever attended Barrett School. This year's reunion was held at the fairgrounds and had representatives from classes as early as '33 and as late as '68. Names of schoolmates who passed away since the last reunion were read and a moment of silence held in their memory. After the potluck meal, the "school choir" got up to lead the group in singing the school song. Tablecloths were "Barrett green." Memories and stories filled the air, most involving Mrs. Yeck.
Marcia Yeck taught in Hood River County almost continuously from 1922 through 1955, many of those years at Barrett School.
"She was the longest-running, most influential principal," according to Jim Meatte, who now lives in Boise, Idaho. "She used to rap you on the knuckles if you didn't behave," he added.
"I remember my first day in class, we all had to introduce ourselves. I told the class my name was Jimmy Meatte, and she corrected me. 'You mean James Meatte,' she said, 'Jimmy is your nickname.'"
"'No, my name is Jimmy,' I said."
After going around a few times, Mrs. Yeck sent young Jim home to his mother, who marched him straight back to school. To his surprise, his mother had a talk with Mrs. Yeck and told her that she owed her son an apology; indeed his name was Jimmy, it was written that way on his birth certificate.
Mrs. Yeck not only apologized to him, she did it in front of the class.
For all her sternness, Mrs. Yeck had her softer moments. Jim Sargeant remembers one such occasion.
"Mrs. Yeck hated Roosevelt because he drank. But when he died in 1945 she came across to Mrs. Kennedy's room to tell us about it, and she was crying," Sargeant marvelled.
She also is remembered for reading a story to the kids after lunch, providing ice cream bars at her own expense for the end of year picnic, and even allowing a bicycle "marriage" to pre-empt a history class.
Present at the reunion was the original Barrett School sign; complete, but in pieces. The Hood River County Museum has shown an interest and has a place to display it, but not until it has been restored. Made of galvanized metal, it has been sandblasted but needs to have dents removed, the letters re-attached (originally done with lead) and then re-painted. It was originally green with white letters and hung over the school's front doors.
The school had a previous brush with fire in the 1940s. Caroline O'Brien Homer lived on Markham Lane and could see the school from her house. One morning her dad noticed smoke coming from the roof of the building.
"He ran over there and got up on the roof and managed to put the fire out. When I got to school the teacher got me up in front of the whole school and told everyone how my dad was a hero and had saved the school," she remembers, "and for the rest of the day the kids just abandoned me."
In a time when school attendance days are being cut from the calendar, returnees reminisce about a time when school was held no matter what. "The only time it ever closed down was if the water froze," remembers Pat Lucas McCann, who now lives in The Dalles. "Even when they had a fire that day they held school."
Photo displays and photo albums at the reunion showed a simpler time, with home-made costumes and basketball uniforms and group shots with all of the girls in dresses. Barrett was a small school, as all the schools were in those days, and little did the kids know at the time that the friendships formed there would be the mortar to keep the bricks of the school together in their memories forever.