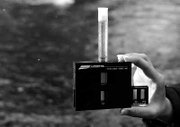 Thirty-five lucky kids got to spend this week on the high seas — at least on the high seas Columbia River style.
The kids were part of the first-ever Captain Conner Camp offered through Hood River County School District Community Education. Each day from Monday through Thursday, campers boarded a 64-foot retired naval vessel now owned by the Sea Scouts at the Hood River Marina for a day of learning and adventure out on the Columbia River.
A crew of three educators, led by Portland State University environmental management graduate student Kiirsten Flynn, directed a host of activities onboard ranging from knot tying to experimenting with hydropower to dissecting a salmon. Many of the activities took place as the boat cruised up and down the river; others — like a wooden raft building contest — were held dockside.
"It's been fabulous," Flynn said Thursday as the boat prepared to head out for its last day with the campers, ranging from upper elementary to middle school students. "The weather has been beautiful. The kids have a great amount of energy and they've really started coming together." Many of the activities, like team poetry writing and even helping to "run" the boat, stressed the importance of working together.
The camp was canceled last summer after the boat — a different one — became unavailable for use shortly before the camp was to start.
Flynn, who had been working with Community Education director Mike Schend on the camp, knew about the Sea Scouts Portland-based vessel and worked hard to get it here so the camp could happen this summer.
"(Kiirsten) took it upon herself to get this boat," Schend said. "She's been instrumental." Schend got a grant through Hood River County to help bring the vessel and its crew here. The grant allowed Community Education to keep the cost to $85 per camper for the week.
The camp was one of the most popular of any offered by Community Education this summer. With the approval of the boat's crew, Schend squeezed five extra campers onboard — beyond the original limit of 30 — from a long waiting list.
"We took as many as possible," said Schend, who had more than double the number of kids who made it into the camp on the waiting list.
Schend has already submitted a request for help in funding the Captain Connor Camp again next year, but he says there are "many factors" that will determine whether the camp will be offered again — including the availability of the boat and the education crew.
The kids who were lucky enough to participate in the unique camp this week seemed to appreciate it. A group of them gathered on the boat's aft deck Thursday, excitedly listing off all the things they'd done in the past few days.
"We learned how to tie knots, and we learned about the watershed," said 12-year-old Isaac Bubb. "And we got to drive the boat, too."