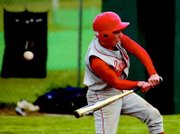 More than 300 people turned out for the Art & Soul gala Saturday night at the future home of the Columbia Center for the Arts. Some were dressed to the nines for the occasion, others wore flip-flops. But everyone seemed to enjoy themselves during an evening filled with good food and good entertainment.
The event was the kick-off for a community fundraising campaign aimed at raising money to purchase the building at 3rd and Cascade (former home of the American Legion and now being held by a private entity for purchase by the arts center) and do renovations to house the CAST theatre and the Columbia Art Gallery.
"I'm calling this project the 'yes' project because everyone we approach to help with it has said yes," said Judie Hanel, chair of the center, in a brief speech before the evening's entertainment began. Gordon Mayer, fundraising chair for the center, outlined the breakdown of the fundraising goal of $900,000.
"It's a steep goal for a community like ours but we're sure we can meet that goal," he said. Mayer said about $500,000 is needed to buy the building, with the remaining $400,000 to go to renovations. He said the center's board hopes to raise about 50 percent of the total needed within the community, with the rest coming from grants and other sources. Before tallying Saturday's proceeds, $206,375 had been raised to date, Mayer said.
The next hour was filled with back-to-back entertainment acts that captivated the crowd and provided a preview of what the new arts center will be about. Cast members from the recently-finished production of "Hair" sang numbers from the musical, and dancers from Susan Sorensen's Columbia Gorge Dance Academy wowed the audience with a jazz number followed by a ballet dance performed by sisters Hannah and Lydia Diers. Dance Academy stand-outs Laila Winner and Hannah Jacobson danced a self-choreographed Latin number. Opera singer Jan Conrad performed two songs, leaving the audience hungry for more. And Hood River's comedy troupe, Perpetual Commotion, performed their crowd-pleasing signature stand-up comedy.
"We were delighted with the turnout," said Hanel after the event. "I think everyone had a really good time and got a taste of what a center for the arts can be in our community."
Upcoming fundraising events for the arts center include a golf scramble in September and the ongoing Art for a Change, where loose change deposited in colorful canisters at retailers around town will go toward the center. For information about the new arts center call 387-8877.