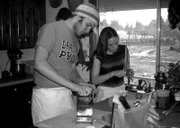 The fourth season of Gorge Youth Football kicked off Saturday, with all three of Hood River's teams taking to the gridiron for their first on-field test.
Blue, Green and Purple each posted victories to give them a head start on the rest of the league, which opened with two games in White Salmon and three in The Dalles.
No one was perfect in the first four quarters of the season, but after pulling a Hood River trifecta on Saturday, the coaching staffs are rightfully confident.
"I didn't think we would move the ball so well," said Purple head coach Mario Guisto, whose troops defeated White Salmon Red by a score of 16-6. "The kids showed that they knew the plays in practice, and then proved it in the game. They all stepped up big."
Purple broke down Red's defense with a solid rushing attack, led by Chris Coerper (10 carries, 80 yards, TD), Kristoff Fowler (7, 60, two 2 pt.), and Cody Doroski (4, 40, TD).
They also benefitted from strong defensive efforts by Sam Kopecky (10 tackles) and Catherine Kiyokawa (6 tackles).
"It was a hard-nosed effort," Guisto said. "After getting over some nerves early, they did everything they needed to win."
Also starting off hot was Hood River Green, which broke a 14-14 tie late in the fourth quarter to defeat White Salmon Black, 20-14.
Dalton Frazier scored his third touchdown of the game with 13 seconds left to help Green atone for giving up the lead on an 80-yard touchdown run with three minutes remaining.
"That was a great effort to start the season," said Green coach Mychal Lucas. "It was a close, down-to-the-wire win that showed us what we're capable of."
In addition to Frazier, Lucas also complimented the efforts of Connal Rea (8 carries, 20 yards), Obie Schwartzel, Dylan Edwards, Michael Smith and Brent Goe.
"We have a nice, balanced team this year that has enough experience to compete every game," Lucas said. "You can't take much from the first game, but these guys are definitely learning."
Accounting for the third Hood River victory on Saturday was Martin Sanders' Blue squad, which beat The Dalles Black by a 22-6 count.
All three teams take to the field again this Saturday at Hood River Valley High School, starting at 10 a.m. Blue hosts Stevenson, Green hosts The Dalles Black, and Purple hosts The Dalles White.