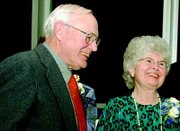 Jack Dunn feels most at home in the air.
He knew from the time he was a child in Georgia that all he wanted to do was fly planes. He built his first model airplane out of match sticks when he was 6 years old, wound a rubber band around its propeller and let it go in his living room. It flew across the room and around a corner before colliding mid-air with a dangling light bulb. His mother scolded him, but Dunn was hooked.
He began flying real planes when he was 17, hitch-hiking 50 miles to the nearest airport where he paid $7.50 for 15 minutes in the air in a Piper Cub. He joined the Navy in 1941, at 18, and spent much of World War II piloting Night Fighters in the Pacific. After that, he settled into a long and happy career in the air, much of it as a test pilot for Lockheed Martin, but also as a commercial pilot for Delta and — always — as a flight instructor. He's logged more than 55,000 flying hours in his life, which means he's spent almost eight years of his 80 in the air.
But ever since the magical flight of that first match stick model, Dunn has spent his spare time, when he couldn't be airborne himself, building models that could.
"With models and real airplanes, the real pleasure is to be free in three dimensions," Dunn says. "It's the very thought of leaving the earth."
Dunn doesn't do much flying in real airplanes anymore, although he's still certified to instruct in just about every kind of aircraft there is, from gliders to jets, both civilian and military. But he continues to get his flying fix by building models — and flying them.
Dunn is president of the Full Throttle RC Club, whose 40-odd members from around the Mid-Columbia build radio-controlled model airplanes as a hobby. Club members meet formally once a month to fly their planes, and meet frequently by "happenstance," according to Dunn. Until recently, the club had the use of an empty field off Highway 35 for their runway, and that's where club members often met to fly their planes. But the field is now being planted in orchard trees, so the club is looking for another venue.
Although Dunn has only lived in Hood River for three years, he has as much or more experience than any modeler; he's been building radio-controlled model airplanes since the first rudimentary ones became available in the 1950s.
"Back then, it was a real challenge," Dunn says of the radio technology. A radio transmitter and receiver that allowed a modeler to fly an RC model airplane cost about $1,000. Today, they cost just over $100 — and are far better, according to Dunn.
"It's made the hobby much more accessible," he says.
By his estimate, Dunn has built thousands of model airplanes in his life — and crashed almost every one of them.
"You try to fly them lower to the ground or something," he says. But he likes the building — or re-building — of them as much as the flying.
"Most modelers enjoy working with their hands," Dunn says. "You don't need a great big machine shop. It's a very fulfilling hobby."
Modelers can buy planes and materials for planes in just about every stage of completion, from ready-to-fly airplanes to kits that require some assembly to designing and building from scratch. Dunn "mixes it up pretty well," but favors building from scratch. The shop he has set up in a spare bedroom of his house is filled with model planes of all shapes and sizes — as well as dozens of shelves stacked with boxes filled with parts.
"The more you put in it, the more you get out of it," he says.
And Dunn gets a lot out of it.
"Modeling today fills a special function," he says. "It keeps me happy."
The Full Throttle RC Club is looking for an open field or pasture members can use for a runway. A small field will work, as long as it's not surrounded by tall trees, according to Dunn. For more information about the club, or about a potential field club members could use, contact Jack Dunn at 387-0328.