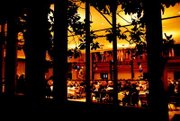 Jack Dunn has built thousands of model airplanes in his life. But one he built this summer meant more to him than most — and to the man he built it for.
A sparkling yellow Piper J-3 Cub hangs from the ceiling in Bob Neiman's apartment at Brookside Manor, thanks to Dunn. It's a model of the plane Neiman learned to fly in as a 16-year-old in western Nebraska.
"I was very fortunate to have a class in aeronautics in high school," says Neiman, 79, a retired minister who still conducts services at Brookside. During his junior year of high school, Neiman and three dozen other students in the program studied aerodynamics, navigation, meteorology and engine maintenance. By his senior year, all but nine students had dropped out of the aeronautics program, finding the rigorous studies too demanding. Neiman not only remained in the course but excelled at it.
Neiman and his fellow flying students used a plane based at an airfield in Scott's Bluff, Neb., a few miles away from his hometown of Gering.
"My flight path would take me down the Platt River to North Platt," Neiman recalls. "If I had to land for fuel, I'd do it, then I'd turn around and head back."
Upon graduation, Neiman got an A in the program and immediately enlisted in the U.S. Army Air Force, fibbing about his age to get accepted. Neiman spent the duration of World War II flying classified missions.
A few months ago, Neiman began reminiscing about his early days of flying and decided he'd like to have a model of the plane he learned to fly in. Some initial inquiries led him quickly to Dunn, who offered to build a Piper Cub model for him. Dunn spent a couple of months building the plane — and even had some help from members of the local model plane club, Full Throttle RC Club, who wanted to be involved in the project.
"Bob is the kind of person who you only cross paths with once in your life," Dunn says. Neiman had requested a detailed instrument panel and cockpit interior, and Dunn obliged.
When Dunn presented the airplane to Neiman last month, he was "ecstatic," Dunn recalls. Neiman, who is legally blind, had a maintenance worker at Brookside rig a pulley system to the ceiling of his living room so he could pull the plane down for a closer look.
Neiman, a sometime writer, also travels to prisons to conduct sermons and doesn't have much down time. But when he does, he reflects on what he calls his "romance with the Piper J-3." He remembers those long-ago days, getting up at dawn to head to the airfield at Scott's Bluff.
"For a 16-year-old guy getting up sunrise," he says, "the sun coming up through that windshield and you're taxiing down that runway. It was exhilarating."