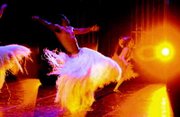 ODELL — The late John Hazlett received a unique honor Sunday at Odell Fire Hall, with about 100 people gathering in the hot sun to observe the occasion.
The department dedicated its new $118,000 tender truck to the memory of Hazlett, a firefighter who in August 2001 died in the line of service.
"It's kind of extra special," said John Hazlett's mother, Arlene Hazlett of Odell. "John liked the idea of going out and helping people. He was very dedicated."
The occasion was the department's second annual memorial service to fallen firefighters, held at the memorial plaza that had been dedicated on Aug. 19, 2002, the one-year anniversary of Hazlett's death when his fire truck crashed en route to a fire.
"We keep our memories alive to remember those who left us too soon," said Odell chief Jeff Walker, before he and other firefighters unveiled the plaques bearing Hazlett's name, mounted on the side of the bright-yellow vehicle. A Federal Emergency Management Agency grant, one of just 500 nationwide, paid for the truck. Rep. Greg Walden presented the department with a U.S. flag that flew over the U.S. Capitol in honor the county's firefighters.
Hazlett's daughter, Echo, his parents Rufus and Arlene, and his brothers Gary and Dennis, of Prineville, and Larry of Hood River, and other family members attended the ceremony and preceding barbecue. One family member who was absent was John Hazlett's son, Matt, who is fighting fires in Montana.
"It's already in the family," said Dallas Hazlett, Dennis' wife.