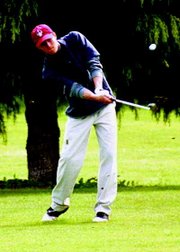 It has been two years in the making but the McCurdy family of Hood River, and their orchard, has finally gained national exposure. The family is featured in the September issue of Better Homes and Gardens magazine, which has a circulation of 7.6 million and hit the newsstands about a week ago.
"This is huge," said Kaye White, Hood River Fruit Loop marketing director.
"This type of coverage is a very positive thing for Hood River. Putting a positive light on a community in the national media is something you can't buy with advertising dollars," said Bill Fashing, Hood River County's Economic Development Coordinator.
According to Heather McCurdy, who owns McCurdy Orchards along with her husband Craig, it all began in the fall of 2001. Steve McCarthy from Clear Creek Distillers, whose brandy-bound pears are grown by the McCurdys, knew one of the scouts from Better Homes and Gardens. The magazine was looking to do a feature article on some aspect of the pear industry. McCarthy quickly suggested the McCurdy family. The magazine came to Hood River two years ago, but were faced with horrible weather and therefore unable to do an article.
"They couldn't even see Mt. Hood, or the pear trees right across the road," McCurdy said.
"It was a year before we heard back from them, I almost forgot about it." The magazine came back in September of 2002 and did a two-day photo shoot, taking 100 rolls of film.
The magazine does every article one year in advance. Naturally, the McCurdys were interested in seeing how the article would appear one year after it was written.
"It shows the popularity of a farm family to the general public," White said.
"I was impressed, I thought the photographs were outstanding," Heather said. West Coast editor Sharon Overton wrote the article, and Edmund Barr took the photos.
"More than the effect the article had on my family, it has more of an impact for the pear industry. To show that there are regular families trying to grow pears and run a business," Heather said. "I think the pear recipes at the end of the article were one of the best features because that will bring pear consumption up."
In addition to the McCurdys themselves, many people depend on the pear industry; just in their orchard the McCurdys employ roughly 25 families. Heather and Craig also assist in running the orchard owned by her parents, Rick and Sydney Blaine.
"It's much bigger than just passing it down from generation to generation," Heather said.
Within a few days of the magazine's release, the McCurdys have already had one person stop by their fruit stand wanting to see the family and orchard.
McCurdy's fruit stand, located on Tucker road, is open daily from 9 a.m. to 6 p.m. and features a variety of pears along with other fruit stand favorites.