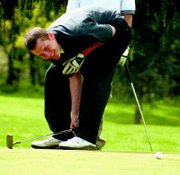 HOOD RIVER — Local windsurfer Dale Cook left little doubt last weekend where he stands among the Gorge's elite course racers: Head and shoulders above.
Cook, 25, successfully defended his 2002 Gorge Cup title last Saturday and Sunday at the Hood River Event Site, winning all but one race on the way to claiming his seventh event of the season.
"He let me win one to start the day, but then he just took off," said Cook's friend and No. 1 supporter, Bruce Peterson, who remained in second place overall after taking second in six of eight races.
"We had some pretty close races, but Dale is just too tough. He's established himself as a world-class racer, and he can go as far as he wants," Peterson said.
Cook totaled 21.4 points in last weekend's eight races, giving him 99.1 points on the season — nearly 150 less than Peterson, whose 244.6 points have him comfortably in second place.
With six seconds and a first, Peterson totaled 39.3 points on the weekend, while Andreas Macke earned four third place finishes to take third at 71.4.
Anil Rajani placed fourth in the two-day event with 96.4 points, and Carey Caronni rounded out the top five with 114.3.
Rajani currently sits in third place overall with 369.4 points, and is followed by Mark Dix at 547.1 and Macke at 570.2.
The Gorge Cup series will continue today with a make-up race in Stevenson, Wash., and will conclude on Sept. 6, also in Stevenson.
"There is still a lot of racing left," Peterson said, "and the only thing we know for sure is that Dale has locked up the title."
Because Cook has won each of this season's events, his results from the final two races will only pad his stats. Meanwhile, Peterson and the other top contenders in the field will be battling it out for final placements.
Peterson said last weekend's race — part of the U.S. Windsurfing Tour — was one of the best this year, and with a season-high 42 sails, it provided a good measuring stick for the local racers.
"It was good to see some International racers competing, as well as racers from the Bay and East Coast," he said. "But in the end, the local racers had the advantage, and found their way to the top."
All of the 2003 Gorge Cup results are available online at: www.gorgecup.com. If you have questions about the series, call Peterson at Sailworks (386-6561).