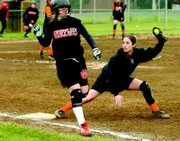 Hood River County rolled out the welcome mat for visiting dignitaries during Thursday's groundbreaking ceremony for Cardinal IG.
Bill Fashing, county Economic Development Coordinator, organized the event and was excited that it drew more than 200 officials and community members.
"They (Cardinal) are providing a great economic opportunity for the residents of this area that we hope to repeat soon," he said.
It is that spirit of hospitality which has drawn the national firm to set up its 19th plant in Odell, according to Cardinal President Roger O'Shaughnessy.
"Thank you so much for welcoming us and I pledge to you that we will be good citizens and do everything possible to make this a success story," he told the crowd gathered at the former lower Hanel Mill Site.
In fact, O'Shaughnessy said Cardinal had never before redeveloped an existing industrial property — but was led to make that venture on the 12 acres in Odell because of strong state and local support. That assistance included the approval of a $100,000 grant from the state's Strategic Reserve Fund to assist the company in gaining enough water flow for fire protection. It also included the move by Cascade Locks to expand its Enterprise Zone to qualify the company for a tax break. In addition, Hood River County initiated a land-use exception process that allowed an immediate expansion of sewer lines to the property.
"This is probably Cardinal's most beautiful site," O'Shaughnessy said in reference to the spectacular vistas of both Mt. Hood and Mt. Adams. His comments led Gov. Ted Kulongoski, who joined the festivities, to suggest that the company would be well served by moving its headquarters into the scenic valley.
"We must continue to attract new industries and create family wage jobs in order to build our economy and put Oregonians back to work," he said. "With a local unemployment rate above 11 percent, these 60 new jobs will be a tremendous boost to the Columbia Gorge Area. I am very pleased to welcome Cardinal Glass Industries to Oregon."
The crowd standing inside the foundation for the 185,000 square foot plant cheered when the first structural beam was set in place.
Kulongoski said the community had good reason to celebrate the raising of that "symbol of progress." He credited a strong public/private partnership for helping the Minnesota-based company set up its newest operation to assemble energy-efficient windows. He specifically thanked Rep. Patti Smith, R-Corbett, and Sen. Rick Metsger, D-Mt. Hood, who were both present, for passage of the "Mill Bill" that streamlined regulations to redevelop abandoned lumber plants within the state.
David Windsor, general manager of Cardinal's new plant, later said he was impressed with the steps taken by both leaders at all levels of government to help the company. He also said the county had a lot of skilled workers who were making it easy to fill the startup positions — and would, ultimately, play a major role in its success.
"We need to thank everyone for all they have done but not forget that it is the local community effort that is really making this happen," Windsor said.
County Commission Chair Rodger Schock briefly took the podium at the ceremony to say that Cardinal was a perfect match for the rural area's economic development needs.
"If we had let this one get away then shame on us, so we got off the dime and made it happen," he said.
Port President Don Hosford reiterated Shock's comments and drew a round of applause when he gave "two thumbs up" to those who had worked on behalf of Cardinal. He said the company had already acted as a "magnet" in bringing one of its suppliers, Homeshield, to the Hood River waterfront.
Smith and Metsger agreed that Cardinal brought not only jobs to offset Hood River County's high unemployment rate, but also hope that other industries would find their way to the Pacific Northwest.
"I see this as the beginning of a new day in Oregon, hopefully it will inspire new businesses to reach out and develop here in Hood River," Metsger said.
"Here we are on the hill starting a new business this morning, and it is our job in Salem to make that happen — we need more companies like Cardinal in Oregon," Smith said.
Windsor is expecting the Odell plant to begin production in January, shortly after Homeshield — which will hire 15 workers — begins roll forming metal and putting together window screens in the former Western Power building.