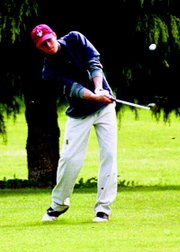 The pilot's training and experience and an airplane designed for safety kept an unfortunate situation from being much worse Sunday during Hood River's Fly-In.
James Leroy Lucas and his daughter, Jolie Lucas-Holt, had just taken off for a trip to Eugene with Jolie's daughter and friend when the plane failed to develop enough power and lift to gain proper altitude.
At this point, Lucas-Holt, who had piloted the take-off, relinquished controls to her dad, and credits him and his beloved 1963 Mooney with keeping everybody alive.
"His skill and experience paid off, and he kept his wits about him," she said. "and the Mooney is different in that it has a steel cage and roll bar, and a steel spar in the wings, which is a unique design in wings."
Her dad, who has been flying since WWII, looked for a place to make an emergency landing and ended up clipping the tops of some trees and landing in a mud pond.
"When you look at the plane it's really startling because it is just destroyed," Lucas-Holt said. "But the cabin is perfect, not a crack in the windows. She really took one for the team."
The Lucases had owned the plane for 25 years, and Lucas-Holt really felt the loss. But she knew that it had kept her and her family safe.
"We hit the trees at 50 mph. That's like having a car accident at that speed. And when we hit the last tree we fell 30 feet to the ground. But we all climbed out and that says a lot about the safety of that airplane."
The fire department was waiting for them and took them to the hospital for tests, but the injuries were minor.
Lucas and his wife had flown up from Setter Creek, Calif., for the event, and Lucas-Holt said that her parents and she had all been volunteers there. She had played the night before in the White Salmon Jazz Band.
Lucas-Holt is not daunted by the experience. On the contrary, she felt that it reinforced the safety of airplanes.
"I need to get back in an airplane soon," she said.