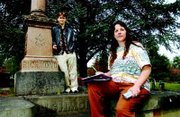 From staff reports
HOOD RIVER — The home-field advantage wasn't all it was cracked up to be last weekend for two of the three local Gorge Youth Football teams.
Hood River Green moved to 2-0 with a 44-0 win over The Dalles Black, but HR Blue and HR Purple each dropped to 1-1 with a pair of close losses at Henderson Stadium.
Purple fell 21-16 to The Dalles White, while Blue dropped a narrow 8-0 decision to a rugged Stevenson squad.
"We may have beaten them if we had all of our kids there," said Blue coach Marty Sanders. "But we still played pretty solid with four of our key players on vacation. Stevenson is going to be tough for anyone to beat this year."
All three teams will take Labor Day weekend off and then return to action on Sept. 6. Blue plays White Salmon Red, while Purple takes on Stevenson. Green will travel to The Dalles to face Red.