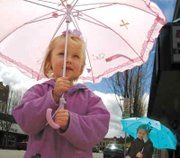 If you are looking for an affordable gift, the new owners of Ribbits invite you to leap down to the Oak Street Mall.
Steve and Christie Galon purchased the former Gift Galore business from Candy Sullivan two months ago. They were undecided about what to name their first enterprise — until Christie's best friend, Chris Keith, gave them the logical answer. But not before they had fielded more than 100 other suggestions from acquaintances and family members.
"We were sitting around laughing and trying again to come up a with a name and then she said 'Ribbits' and it just clicked," said Christie, who is renowned for the frog memorabilia she has collected since her teenage years.
In keeping with the store's name, the Galons are placing an amphibious token (not the real thing) in each of their gift basket selections.
They plan to specialize in custom baskets that will be stuffed with mostly local products for a base price of about $35.
For example, the "Coffee Lovers" special features a hand-painted card by local artist Darryl Lloyd, packages of Hood River Coffee, two decorated mugs, baked goods, and chocolate-dipped spoons with gourmet mocha mixes.
There are plenty of options to choose when calling 387-FROG (3764) to place a basket order. These choices include office sets, jams and jellies, relaxation goods, and new home owner gifts. Or, customers are welcome to bring in a personal item, such as a photo, and the Galons will build their creations around that feature piece. And delivery is free within the city limits and surrounding area.
For people who need an immediate gift, or prefer something less expensive, Ribbits also stocks pre-made baskets of bath and food choices that range in price from $15-$25. Or, customers can browse the shelves that are filled with a variety of household decor, either functional or aesthetically pleasing.
This merchandise includes the Twisted Copper pieces fashioned by Steve — everything from a seagull mobile, to wine bottle holders, house numbers and candle holders. In addition, Steve has teamed up with local glass blower Charlene Fort to create "flower buds" set in a long copper stem that accent any planter or garden.
"We are looking for things that are one-of-a-kind — but not high priced," said Steve, who is scouting for other artists interested in selling their wares on consignment. Ribbits maintains a mailing list that alerts customers to special store discounts. One of these special shopping opportunities will be the grand opening from Aug. 30-Sept. 2. All merchandise will be marked down 10 percent and a custom basket valued at about $50 will be given away each day. For each $5 a customer spends, one entry form will be placed into the drawing for those containers.
The Galons are enjoying their first venture into self-employment. After both Steve and Christie were laid off from their respective jobs, they decided to make their dream of business ownership a reality.
"We wanted to give something back to the people of Hood River because this is such a wonderful community," said Christie.
Although she is currently working days at another job, Christie joins Steve on the weekends when the shop is open from 9 a.m. to 6 p.m. on Saturday and 9 a.m. to 3 p.m. on Sunday. From Tuesday-Friday, Steve mans the business alone from 9 a.m. to 6 p.m. (closed Monday except for the grand opening celebration).
"We are just having fun and we want this store to be for everyone, both visitors and locals, for people of all ages," Steve said.