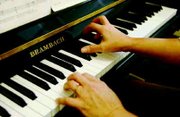 A Cascade Locks resident and his former defense attorney are crying "foul play" over actions taken by city officials and Hood River County deputies.
On Monday, Patrick Scallon, counsel for Randy Bates, stepped down from a pending criminal case in protest. He wanted to be free of ethical constraints that would keep him from speaking out against alleged civil rights violations committed by what he terms a "good old boy system."
Meanwhile, Bates and his wife, Sundie, are preparing documentation about their plight to submit to the American Civil Liberties Union. They believe that only legal intervention will prevent further slander of their name by city officials over the local public access channel, as well as continued illegal search and seizures.
"I don't know if Randy Bates is guilty or not, that's yet to be decided, but I do know that my client has been legally denied his day in court," Scallon said. "It now appears to me that if you've got a lot of money and a lot of power then the Constitution applies to you in this county, but if you are broke or a little odd then those rights don't apply — and I don't buy that."
Hood River County Prosecutor John Sewell said one lengthy delay in Bates' case was brought by his inability to work with his first court-appointed attorney, who later resigned. He said Scallon caused the latest postponement because he failed to follow state statutes regarding the presentation of evidence and witnesses.
"It's been my experience in dealing with Mr. Bates that he has a selective memory at best, I don't have any reservations about trying this case," Sewell said.
His client, admits Scallon, has been actively involved in run-ins with the City of Cascade Locks and the Hood River County Sheriff's Office for almost two years. But he said that shouldn't mean that Bates and his family, who have been residents of the city for the past 14 years, can be subjected to "abusive" treatment at the hands of local authorities.
"Every citizen in this country is granted the same protection, and that also applies to the Randy Bates' of this world," Scallon said.
He said the controversy swirling around Bates is complex, involving the following two parallel issues:
A pending criminal case over the ownership of a backhoe that Bates has been accused of stealing from a former business partner.
The methods used during the recent seizure of vehicles and travel trailers from his Wasco Street property.
On Aug. 25, Scallon claims that Sewell "mis-stated critical facts that were known or should have been known" to gain a court delay for Bates' trial. He said the legal proceedings have already been on hold for almost a year and, meanwhile, Bates has lost possession of the backhoe that he used to make a living. At Monday's hearing, Sewell informed Circuit Court Judge Donald Hull that he had received a last minute witness list of 13 persons that were unknown to the case, and there were no phone numbers or addresses included that would allow him to reach those individuals. In addition, Sewell told Hull that he had not had the opportunity to review a box of evidence that Scallon also noted on his witness list.
Scallon strongly objected on behalf of his client to the request for a continuance, claiming that he had brought the same container of evidence to each court appearance. He also said the documents used to support his case had been offered to Sewell in a letter dated Jan. 24, 2003. According to Scallon, the district attorney's office had not delivered their witness list to him until 3 p.m. the previous Friday and, since no contact numbers had been included, he had assumed they weren't necessary. Therefore, Scallon said he had reciprocated as required with a list of his own — which was handwritten so that it could be returned within the same hour and both parties could prepare for their Monday pre-trial hearing. After Hull granted Sewell's postponement request, Scallon decided to call it quits. He felt that past and present animosities with Sewell had reached a level that couldn't be overcome. In the summer of 2000, Scallon was fired from his role as deputy prosecutor, and he admits there is no love lost between himself and his former boss.
"I am no longer with the prosecutor's office because I 'didn't fit in' and truer words were never spoken. But this is not about a disgruntled ex-employee it's about the facts and what they can prove," he said.
Sewell said that Scallon's "perspective" of the case has probably been affected by the fact that he was terminated. He said Scallon's "vague" offer of allowing him to "dig through a box of papers" does not meet Oregon guidelines for the presentation of evidence. He said Scallon had been provided with copies of police reports months earlier that identified each witness the state planned to call and provided a means of contact.
"He has a legal and ethical obligation to advise me specifically of the evidence he plans to use and who his witnesses are and how they can be reached — some of these individuals weren't even known to the victim," said Sewell.
Bates and Scallon are relying on the reports of two deputies, one assisting from Skamania County, Wash., to prove their argument that officials trespassed onto Bates' property while he was not home and opened the door of his backhoe to check the serial numbers. They allege that move was done without a search warrant, as were other visits to the property during a series of enforcement actions that Bates terms as "intentional harassment."
He is especially aggrieved by the "trashing" of his personal property during the recent removal of 10 vehicles and six travel trailers. He plans to challenge the Cascade Locks nuisance ordinance that terms cars as "inoperable" if they are without a current registration. Bates said state law allows vehicle owners to avoid paying registration fees for little-used cars by purchasing two trip permits each year. He said the remainder of the time, vehicles are allowed to be parked on private property. In addition, he said several of the seized cars belonged to his friend and should not have even been moved.
"Everything we had just went driving down the street. What were these people thinking when they took everything I own?" questions Bates.
Kevin Dean, nuisance enforcement officer for Cascade Locks, said the city had tried for months to work with the Bates' for a cleanup of their property — even offering to haul cars and other items away without charge. He said after Randy's repeated refusal to cooperate, a court order was obtained that allowed the city to tow the vehicles and trailers away. He acknowledged that some clothing, dishes and other personal items were stored inside one of the trailers since it had been occupied at least part-time by the Bates. He offered to allow the family to reclaim these goods at the impound yard but said they did not choose to accept that proposal. Dean said the city also sent letters to the owners of several cars that were seized informing them that they could reclaim their vehicles without charge.
However, Dean denies Sundie's allegations that city officials and deputies threw articles of clothing in a ditch and destroyed a $4,000 battery-powered generator. Sundie arrived at the scene shortly after authorities on July 31 and said the chaos going on around her created tremendous trauma, especially since she is legally blind.
"The emotional distress that they've caused my family is just unconscionable," Sundie said.
The commotion going on that day even drew the curiosity of neighbor Henry Keller, who walked over to watch the proceedings and comfort Sundie.
"I don't know how she stood up underneath it, but I guess that they felt they had the law on their side," he said.
Dean said every effort was made to accomplish the task at hand without damaging the many belongings that were piled around the property. He said the trailers were included in the seizure because they had no permitted usage and the Bates' had been living in them without water or electric service.
"We really tried to give them all kinds of opportunities to work with us, but we finally had to act on numerous complaints from neighbors," he said. Dean contends the city will next move to recoup at least some of the estimated $10,000 in costs that taxpayers have incurred in the ongoing problems with the Bates.
These conflicts have often included their failure to confine seven pitbulls on their property. However, Bates contends that since his problems began with the city about two years ago, an unknown person has cut the lock to their fenced run and used other measures to set the canines loose. Randy said because of these security problems he and Sundie had begun camping on the property. When not at that location, they were staying in the nearby home of a friend, with their 16-year-old son Justin.
The Bates' were accused this spring of dumping graywater from the trailer into a nearby stream and that case is still awaiting conclusion. In addition, Randy — who once operated the "Skamania Net" Internet service — was assessed a civil penalty of $750 from the state Building Codes Division for erecting cell towers on several properties without a permit. He has also been fined $25,000 by the Oregon Bureau of Labor and Industries for illegally employing a minor. Randy has unsuccessfully fought against all of these charges that he claims stems from the competition he was creating for the city which wanted to branch into broadband communications.