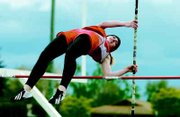 Few small-town soccer players ever get a chance to experience what it's like to play on the NCAA Division I stage.
Even fewer are given an opportunity play for a defending national champion. But Becca Meierbachtol isn't your typical small-town player.
The University of Portland recruit and former Hood River Valley High School standout says she is settling in rather nicely during her first month of practice.
And despite a few uphill battles — most recently the death of head coach Clive Charles on Tuesday — Meierbachtol is ready to contribute right from the start.
"It's been a long process coming back from surgery, but I'm starting to get my touch back," said the freshman midfielder, who saw her first on-field action for the U of P on Monday against the Ghana national team.
"Right now, I just need to work on my balance and try to rebuild the muscles in my foot. I hope to regain some confidence over time, and if I just relax and let things happen, I think I will be fine."
Meierbachtol suffered a fracture in her right foot at the end of her senior season at HRVHS, and has been recovering from surgery for the past nine months.
The 2002 Intermountain Conference Player of the Year says she is finally able to run "without too much pain," but is willing to give herself time to heal before jumping into the fire.
"Even if I can't accomplish everything this year, I think just being on the roster and practicing with the team will provide a good base for next year," she said.
"This year is about getting fit and learning the system. Maybe I won't get to contribute as much as I would like, but I'm going to keep working at it."
Meierbachtol is one of nine freshmen recruits on the Pilots' roster, and is looking at her freshman season as more of a stepping stone than a pressure cooker.
She says she isn't looking to start right away, and will graciously accept minutes off the bench if that is what the coaching staff wants her to do.
"Becca is coming along very well," said assistant coach Trevor Warren. "She plays with a lot of confidence, and once she gets herself in playing shape, she will be a big contributor for us."
Warren said that the staff plans to ease Meierbachtol into the playing rotation so that she doesn't reinjure herself.
"It's a long season," he said. "We're just looking at what we have right now, and there's every reason to think Becca will be a key player on this team."
Meierbachtol will be competing for playing time with some of the West Coast's top freshmen, including Angie Woznuk of El Cajon, Calif. (a former U-19 national team player), Elsa Hume of Victoria, B.C., and Lisa Sari of Longview, Wash.
She admittedly has a head start on most of the girls because she played for Charles and F.C. Portland throughout high school. But that isn't enough to make her overconfident.
"I definitely have to work on improving my confidence on the field," Meierbachtol said. "It's good to start slow with some exhibition games, but I know it will be hard to crack the lineup."
The Pilots left Thursday for their first two games of the new season: Friday at the University of Colorado and Sunday at the University of Denver.
Next up is a California road trip to Stanford (Sept. 5) and San Jose State (Sept. 7), and then comes the Nike Invitational at Merlo Field on Sept. 13-14.
"It's comforting to know that my friends and family can drive down and watch all of our home games," Meierbachtol said. "I'm happy to play so close to home, but I'm not going to be there all the time. I want to get the whole college experience, and spend as much time as I can in Portland."
And, looking at her midweek practice schedule, Meierbachtol should have plenty of time to spend in Portland.
The Pilots practice nearly every day, but when they aren't on the field, the girls are usually hanging out together off of it.
"Everyone on the team gets along so well, and we have been spending a lot of time with each other," Meierbachtol said. "We have had a lot of opportunities to bond off the field, and as a result, I think we play better together."
Meierbachtol says she and the other freshmen have felt very welcome by the coaching staff and the returning team members. And that feeling of team unity makes her want to play even harder so she won't let them down.
"The coaches have all been really supportive," she said. "I thought it might be a little more impersonal, but this team is like a family. We're all there for each other, and I can't describe how important that has been so far. I can't even put the experience into words. It's just been amazing."
Meierbachtol was unavailable for comment after Tuesday's announcement that Charles, her long-time coach, had succumbed to cancer.
However, one day earlier, she spoke about how important this season would be because of the declining health of the Pilots coach.
"We still want to win it for Clive," Meierbachtol said of Charles, who was the program's head coach for 15 years. "This is his program, and we all want to add to the success of last year."
Meierbachtol credits Charles for "getting me out of Hood River to play soccer," and said, "if it wasn't for him, I don't know if I'd be playing here right now."
"It's really an honor to play for this program," she said. "And to be one of only two Oregon recruits means a lot to me. I take that very seriously, and I want to represent Hood River well while I'm here."
Judging by the early returns, from both Meierbachtol and the coaches, she figures to be there quite a while.
She loves them and they love her, which is exactly what any incoming freshman could hope for.
"We're all here for the same reason, which is to play the best soccer we can as a team," Meierbachtol said. "This is exactly the kind of opportunity I was hoping for in college."
****
Tickets for the Sept. 13-14 Nike Invitational can be purchased on the University of Portland's Web site at www.up.edu.