Tuesday, September 2, 2003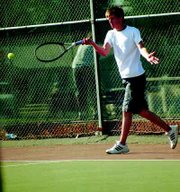 Fire raged on both sides of Interstate 84 near Cascade Locks Tuesday afternoon, raising thick smoke and closing the freeway in both directions as firefighters battled a fast-moving fire driven by gusty winds.
The Cascade Locks industrial park was evacuated at around noon, after the fire spread quickly between 11 a.m. and noon, affecting Bear Mountain Pellets, Cascade Wood Products and other businesses.
One firefighter described it as "a major problem."
As of 1 p.m., the city of Cascade Locks itself was unthreatened, according to Mayor Ralph Hesgard. However, he issued a bulletin to residents living near the freeway to water down their roofs and yards.
Trees and power poles burned in the Herman Creek as Oregon State Patrol stopped traffic on the freeway as well as the adjacent train tracks. Washington State Patrol were called in to close the Bridge of the Gods at 1:10 p.m., to prevent further tie-ups on I-84. Wasco County deputies and OSP were asked to turn back traffic at Mosier.
The blaze began near milepost 47 and spread through five acres of dry grass and into the tree line within 30 minutes. Witnessed reported extensive smoke and fire moving westward on both sides of the interstate. Cars were backed up for about two miles east from Wyeth after OSP closed the freeway. Witnesses said power lines and poles were consumed by fire, which was topping from tree to tree in places.
Traffic was diverted back to Hood River, where the Port of Hood River waived all tolls.
"It's backed up as far as I can see," said bridge worker Allen Elliott.
Firefighters from the City of Cascade Locks, Odell, Pine Grove and Hood River, and agencies from surrounding areas were called to battle the blaze under hot summer skies. Officials said the lack of rain during the summer season provided the flames with enough fuel for rapid growth.