Tuesday, September 2, 2003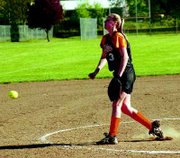 With all the uncertainty surrounding the HRV cross-country program this summer, head coach Kristen Uhler knows she is lucky to have such a solid number of runners (14) out for the team.
Talks of major budget cuts at the end of last school year put most local runners in a holding pattern. But that didn't seem to faze Uhler or her team.
Even when she discovered that last year's No. 2 runner, Brisa Jessup, would not return, Uhler didn't panic.
Instead, she calmly spread the word to her other runners, and kept them cruising along as though nothing was different.
"All we can do is move ahead as though there is going to be a season," she would say. "We don't want to lose everyone if something changes."
Which is exactly what happened midway through the summer, when the Hood River County School Board announced that none of the sports on the chopping block would be cut.
"We would have been so disappointed if there wasn't a team this year," said senior Chelsea Nance, who is one of the team's most experienced runners. "I probably should have kept up my training throughout the summer, but I'm slowly getting back in shape."
With the first meet only a few days away (Saturday in Madras), the other girls on the team are also trying to find their early-season stride.
After all, they have a lot of work to do to make up for the losses of graduated seniors Christy Paul and Allison Byers, and Jessup, a sophomore who is living with her dad in Mexico this semester.
The Eagles return three varsity runners from one year ago (sophomores Jenna Fisher, Janne Lucas and Jennifer Jeffries), and will look to seniors Caitlin Becker, Nancy Meza and Nance to help round out the varsity team.
Other runners in the mix for a varsity spot will be sophomore Christa Chandler and freshman Melissa Kauffman.
"There is a lot more internal competition on the team this year," Nance said. "There isn't a clear-cut No. 1, which should make it more fun for everyone."
Rounding out the early-season roster are sophomores Jolie Hobbs, Stephanie Judd, Melissa Princehouse and Susi Valle; juniors Jillian Jones and Komisa Schwartzel; and senior Patti Murillo.
Uhler said Jeffries is still returning from an injury, but could be ready for Saturday's race. She also hopes to get a few more kids out now that school has started.