Tuesday, September 2, 2003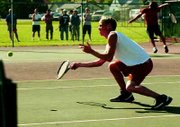 A head's up for the casual Hood River Valley football fan: The Eagles are a different team this year than in 2002.
Following the graduations of 13 seniors, the Eagles have been forced to rebuild a number of positions since last year.
And, as they enter the 2003 season, a lot of those positions — including quarterback — remain up for grabs.
"They're still competing for the job," coach Mitch Sanders said in reference to his two primary candidates, sophomore Tony Guisto and junior Alex Princehouse. "Alex is going to start on Friday (at The Dalles), but that doesn't mean it can't change next week."
Both players were thrown into the mix rather hastily when the expected starter, junior Dennis Methvin, opted not to play football this season.
Guisto was the quarterback for the freshman team last year, while Princehouse was throwing blocks instead of passes as a JV tight end.
"Alex is capable of getting the job done, but he needs to gain more confidence," Sanders said. "Tony has confidence, but he's going to find out that freshman and varsity are two totally different speeds. So, it's going to take a few adjustments from everyone."
And, with a brand-new offensive line, Guisto and Princehouse may have to adjust the hard way at times.
Six of the seven O-linemen are new to the formation, while two of the three backfield starters will also be starting from scratch.
The only returning lineman is senior right tackle Zach Royall, who will be flanked by varsity returnees Luke McCarthy (right tight end) and Jason DeHart (right guard).
The center position will be manned by newcomer Alex Dominguez, while Cam Lucas (left guard), Jorge Lujano (left tackle) and Heath Goin (left tight end) round out the new O-line.
"We've got some tough kids this year," said defensive coordinator Caleb Sperry. "They have shown that they like to work hard, and there are a number of guys who will play on both sides of the ball."
Goin, a baseball standout who hasn't played football since his freshman year, has been tabbed as the starting right defensive end, with senior Nigel Bond on the left, and a combination of Lujano, Royall and DeHart at defensive tackle.
McCarthy will also start both ways, playing outside linebacker on defense. He will be joined in the middle by returning starter Bryan Williams, and on the outside by Rocky Level.
"I think moving Rocky closer to the line of scrimmage will be a good thing for this team," Sperry said. "All three of our linebackers know how to make plays, and they should help shore things up a bit this year."
As for the secondary, Sperry is looking at brand-new corps, with junior Terry Sanders and senior Danny Newton at the corners, junior Adam Mack at strong safety, and senior Kyle Maurer at free safety.
Junior Adam Brown will also play some free safety, while seniors Nolan Johnson and Alex Lozano will spell Sanders and Newton at the corners.
"How our secondary sets up will be much different than last year," Sperry said. "It's a zone/man concept that seems to fit this group. We're using the same scheme (4-3), but I think we're going to get to a lot more passes this year, and hopefully, prevent the long ball."
Sperry admits that the Eagles can't afford to give up as many big plays as they did last year because the offense is much less proven than the 2002 group.
There is no Jacobe Krizman on the roster this year, nor is there a Chris Searles. And now, with the disciplinary cuts of Dominic Buttaccio and Justin Krizman, the only returning offensive playmaker from a year ago is Bond.
The senior fullback will be sharing the ball with as many as seven other ball carriers, including Maurer, Newton, Level, Brown, Lozano, Johnson and Sanders.
"It's going to be a wing by committee this year," Sanders said. "All of them run about the same, but some are blocking better than others. And that's what's going to determine playing time."
Sanders said his first unit will likely be Bond, Level and Maurer, with Brown seeing significant time when he returns from a knee sprain suffered in last Friday's jamboree at Centennial.
Brown's injury is just the latest blow to the program. But Sanders and company promise to forge ahead with what they have.
"It's time for the young guys to step up," Sperry said. "This is the start of a new era."