Tuesday, September 2, 2003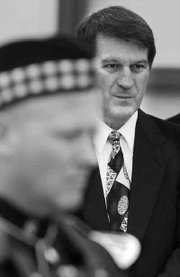 Ghostly images were recently viewed in an experimental orchard at the Mid-Columbia Agricultural Research and Extension Center. But what appeared to be a scene from a science fiction movie was actually a test for "water stress" on Lapins cherry trees. For one week in early August, eight of the trees were encased in transparent plastic chambers that were kept inflated with portable fans.
"We're trying to understand how much we can cut back on water, and to what degree, without affecting fruit production," said Dr. Roberto Nuñez-Elisea, assistant professor of horticulture.
Nuñez-Elisea, who heads the local Oregon State University's sweet cherry program, is now studying the data gathered from the preliminary test. He is working on the project in cooperation with Matthew Whiting, his counterpart from the Irrigated Agricultural Research and Extension Center in Washington state. The scientific team is taking a first-ever look at how much moisture can be removed from the soil without affecting the overall health of the tree. Their goal is to work out a formula that will decrease growth and increase productivity. They are addressing orchardist complaints that the standard Mazzard root stock of the Lapins, while hardy, put its energies into growth, which takes the tree longer to bear fruit.
"This is a large tree with vigorous growth and it is cumbersome to harvest, so we are very interested in producing a tree that can either be picked with a small ladder or no ladder at all," said Nuñez-Elisea.
In addition, he said finding methods to decrease water usage could make the farming of cherries more efficient, as well as preserving a natural resource.
"It costs so much to plant trees that you need to get a return on your money as soon as possible and water is one tool for achieving that," said Whiting.
During the one-week trial period, the canopy of four trees that had already been deprived of water several days earlier were compared with four irrigated plantings. Although there was not enough time to measure any significant results, Nuñez-Elisea, who specializes in water management, and Whiting, a leading researcher of cherry physiology, were able to gain a base knowledge of how the study would work.
Whiting said when a tree draws an adequate amount of moisture through the roots, minerals and nutrients are carried to the leaves and then out into the atmosphere through microscopic openings known as stomates. When a drought condition occurs, he said these openings close, and he wants to learn if that process happens quickly or over a gradual amount of time. Nuñez-Elisea manned the electronic ground sensors to track what was happening with the root systems on both the watered and unwatered trees. He is striving to coordinate where the saturation point is and how far soil water content can be moved back.
"What we would like to do is to learn enough about tree behavior that it can 'tell us' when it is stressed and needs water," Whiting said.
Nuñez-Elisea and Whiting plan to ask the Washington Tree Fruit Research Commission later this fall for more funding to continue their experimentation next spring.