Tuesday, September 2, 2003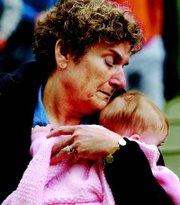 By SCOTT BECKER
News Intern
The members of the Hood River Valley boys cross-country team are hoping to build upon a strong 2002 campaign as they gear up for competition in what coach Rich Hedges calls, "no doubt, the most competitive conference in the state."
"This is a year to reload after losing three of our top runners to graduation last year," he said in reference to Jon Gehrig, Jeff Fisher and Eric Avila.
"But the good news is, most of our top runners are underclassmen, and our nucleus will be back next year."
HRV will get its second taste of Intermountain Conference competition this year after finishing fifth at district in 2002. Hermiston, Bend and Mountain View are all state-ranked teams, and Hedges has no illusions about where his team fits in.
"Hermiston, Bend and Mountain View are not only ranked top five in the state, they are also ranked nationally most years," he said. "The reality for most of the IMC teams is that we're battling for fourth, fifth and sixth."
But Hedges still hopes to send one of his runners to state: The team's top runner from one year ago, junior Alex Jimenez.
Jimenez enters the season as the unquestioned No. 1 runner after a grueling summer workout regimen that included a stint at the Steens Mountain Camp.
He and senior Brian Crosswhite are the team's two co-captains, and will be leading the way for teammates Graham Hay, Jess Jennings, Chris Jennings and Fernando Ochoa.
Also competing for a varsity spot will be Mat Foster, Carlos Quintana, Louis DeSitter and Kevin Dye.
"Alex is one of the top runners in the district, and we really hope to get him into the top seven this year," Hedges said. "And our two through five runners should make us competitive with most of the teams in our league."
HRV will get things started this Saturday in Madras, where they will see a handful of other IMC teams in the 20-team field. Hedges did not know which schools would be there, but he said he expects the meet to be a good proving ground.
"The uncertainty we had over the summer didn't help us, but we are hoping to regroup now that school is starting," he said. "We also hope to recruit more freshmen to the team and see what they can do."
Among the other runners on the HRV team this year are sophomores Ian Meyer and Eli Koester, junior Joe Yang, and seniors Mike Allen, Mike Kauffman and Devon Dallas.
Hedges hopes to have everyone in place by the Sept. 10 Skip Sparks Invitational, which is the team's only home meet of the year.
"Right now we have 25 runners, with six more starting this week," he said. "That's a good place to start, but we need to come out and work every day with the season underway."
Practices will continue after school every day this week.