Tuesday, September 2, 2003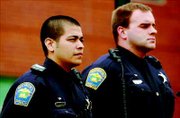 The Columbia River probably seemed wider than usual to a number of people early Monday morning, when the 61st annual Roy Webster Cross Channel Swim returned to Hood River.
The conditions weren't as ideal as they were last year when the river was like glass, but it was a very successful swim, according to Craig Schmidt, director of the sponsoring Chamber of Commerce.
"Any time we can put that many people in the water and have them come out without incident, it's a success," he said.
Of the 494 participants, five asked to be taken out of the water by one of the many boats standing by, manned by the Sheriff's department and volunteers. There was a fairly stiff breeze of about 20 miles per hour before things got going, but by the time the swimmers hit the water it had died down to about 5 or 10 mph.
"The swimmers were a little challenged by chop, but the wind was coming from a direction that didn't create a lot of swell, so that was good," Schmidt said.
"The water temperature was about 71 degrees, and the average is somewhere around 68 or 69. Several swimmers commented that it seemed warmer than usual," he added.
The Webster swim is a fun event, not a competitive one. It draws teams made up of families and friends, and individuals young and old. Two of the families represented were the Webster family, six of whom kept the tradition going for the swim's namesake, and the Pongracz family, of the Portland/Vancouver area, who also had six members participating.
The largest team consisted of 11 swimmers from Lake Oswego and Hood River's "Sherman Street Swimmers" had eight members in the water. The oldest participant this year was Admiral Horton Smith, 78, of Seattle.
Coming the furthest distance for the event were Harris Buchbinder of Miami, Fla., and Elizabeth Marker, of New York City. And holding the title this year for most consecutive swims was Joe Sullivan of The Dalles, who has completed the swim a remarkable 32 times.