Tuesday, September 2, 2003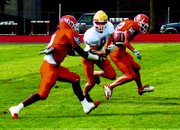 Hoodstock, the Gorge's homegrown music concert, returns to the Hood River Marina this weekend in a two-day music festival showcasing a wide range of local musicians. Featured in this year's lineup are Moe Dixon, Blue Trick, Django's Cadillac and Luna Rise. The excitement and enthusiasm generated by Hoodstock's debut last year has expanded the concert into a full weekend event including children's activities and spoken word presentations by local youth.
Hoodstock is an all-volunteer concert and fundraiser sponsored by the Columbia River Fellowship for Peace.
"We believe that peace begins at home and what better way to create it than to come together through music," said Paul Woolery of CRFP. Half of the proceeds from this year's event will benefit Radio Tierra, the Mid-Columbia's new multi-cultural radio station recently licensed by the FCC to broadcast in the Gorge.
Radio Tierra is a non-profit organization whose mission is to provide high quality, innovative programming to the local region. Programs will be offered in both English and Spanish with an emphasis on outreach to area youth.
Organizers of Radio Tierra are currently raising funds to install a tower and set up a studio. The station is licensed by the FCC as a low-power FM station, whose reach will extend approximately 10 miles.
Partnering with Radio Tierra for Hoodstock was a natural for CRFP, according to Woolery.
"Here in our own community there are a lot of divisions we're working to bridge," he said. "This is one way we're working to do that." Part of the whole concept behind Hoodstock is to "bring together a lot of diverse elements to share what we have in common, music," Woolery said.
******
Hoodstock begins at noon on Saturday. Gates open at 11 a.m. Tickets are $10 per day (with in-and-out privileges) or $15 for the weekend. Tickets for youth ages 12-18 are $5. Children under 12 are free. Food and beverages will be available on site.
Port Marina Park will be closed to the general public on Saturday and Sunday for the event. Patrons may still enjoy Hood River County Museum at 300 E. Port Marina Drive, and boat moorage tenants have been contacted about how they can access the marina. Three marina-based windsurfing schools — Big Winds, Brian's Windsurfing and Hood River Waterplay — will be operating at the Hook, located on the west end of the Hood River waterfront. For more information about Hoodstock, go to www.columbiariverpeace.org. For more information about the park closure, call 386-1645.