Friday, September 5, 2003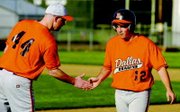 The Hood River Valley volleyball program has wanted Jen Baklenko as its coach ever since she moved to Hood River in 2000.
But, until now, the time hasn't been right for the former professional player and Division I college standout.
"I guess I was on overload after playing professionally for eight years," said the first-year head coach, who inherits a program that failed to win a single match — let alone a game — in 2002.
"Before that, I played two years at SDSU (San Diego State University) and two more at USD (University of San Diego). So when I moved here, I wanted to slow my life down a bit and just take a break from it all."
But that was then. If you ask her today what her outlook is, Baklenko will tell you she has a renewed excitement for volleyball.
And, the only difficult part about it is, there aren't enough practice hours in a given week for her to teach her team everything she wants them to learn.
"I want the girls to think about what they are going to do with every ball," Baklenko says. "They are going to have to work hard every minute they are with me, and there is still a lot they need to learn before we can reach our true potential."
While Baklenko does have seven returning varsity players, only one — junior Meghan Flink — has a "volleyball base." Meaning, only Flink has played at a club level, which taught her all the fundamentals that many of the other girls are still learning.
"Ashley (Delepine) is another player who has good form and a good understanding of the game," Baklenko said. "She really works hard, which is what we need out on the court. And the other girls are learning that."
Delepine (junior) and Flink are joined by fellow varsity returnees Danielle Bohn (senior), Marisa Rojas (senior), Sara Sherrell (junior), Katie Pritchett (junior) and Napua Wampler (junior).
Rounding out the roster will be junior Kara Graves, junior Emily Bounds and senior Jessica Young. Baklenko said that freshman Brianne Rowley and sophomore Jamie Abbott — a transfer student from Memphis, Tenn. — will also see some time as JV swing players.
"We're already working better together than last year," said Graves, who played JV ball last year with Rowley and Bounds. "We're definitely going to improve over last year, and actually, I'd say we've already improved."
Baklenko agrees, and says that while she is putting no major expectations on her team in the brutal Intermountain Conference, she expects people will see a much different team than in 2002.
"Going hard every minute of every practice will hopefully translate into a new attitude in the games," she said. "Movement and communication are also key, and I feel like the girls are picking up on that."
HRV will test its progress today at the Hood River Invitational, and then gear up for its first IMC matches next Friday versus Summit and Mountain View.
"We're improving day by day as a team," Baklenko said, "and we're going to take it one game at a time. And once we build that base, we can start working on the winning attitude."