Friday, September 5, 2003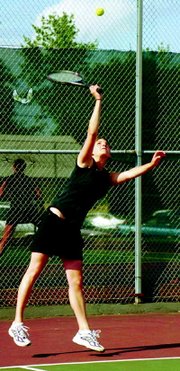 Norma Schell experienced her first symptoms of multiple sclerosis when she was 24, shortly after she graduated from nursing school. She was numb from the waist down for several weeks. A doctor told her he suspected MS, but could not confirm it.
For the next 17 years, Schell continued to experience worsening symptoms of the disease, which affects the central nervous system by impairing normal nerve impulses and leading to loss of motor skills. The disease, by Western medical standards, is incurable.
Schell experienced ongoing numbness and tingling in her legs. Her right leg dragged and she had difficulty getting her foot over curbs. She would walk through doorways and catch her shoulder on the jamb. She stumbled into furniture. Her vision flickered. She was constantly fatigued.
Finally in 1981, when she was 41, a specialist at Oregon Health Sciences University officially diagnosed her with MS.
"The doctor basically told me to get ready to go down the tubes," Schell, who lives in Portland, recalls. He told her to get a house with no stairs, a car with automatic transmission. "He said, 'Prepare yourself because your legs will be the first thing to go.'"
Schell was panicked. She went into a severe depression. At that time, there were no medications for MS patients to help alleviate symptoms. Her doctors told her to practice meditation as a way of coping with the stress of the disease.
One day when she was meditating, Schell had what she calls an "inner vision."
"The inner voice just said, I will do whatever it takes to fight this," she recalls. For a trained registered nurse who had been immersed in Western medicine her whole life, "whatever it takes" meant seeking alternatives to Western medicine, which had no cure for her disease and whose practitioners told her to prepare for her own demise.
"I just started grasping at straws," Schell says. She researched and began trying all sorts of alternative treatments — all of which were new to her and, she thought, made her "look stupid" to others.
"But others weren't living in my body," she says. She began seeing an MD who was also trained in Chinese medicine. Among other treatments, she began having acupuncture.
"I had no idea that the body could be balanced, that energy could be 'corrected,'" Schell says. Still, she thought the doctor was primarily treating her symptoms. But within a few months, she realized that the severe arthritis she'd had for years in her neck was gone. The arthritis wasn't a symptom of MS but rather of its related stress.
Schell also began seeing a psychologist, who helped her delve into her past — including her unhappy, stressful childhood — in order to face the many demons she'd kept at bay since she was a little girl. She also acknowledged for the first time that she suffered from lifelong depression.
"I began to realize that all of my family were depressed," she says. Her brother also was diagnosed with MS, and her sister with lymphoma.
"We were all suffering immune problems," Schell says. "The immune system is the voice of the body. If you're thinking negative thoughts all the time, you can imagine what it does to the body. There really is no separation between mind and body."
Through her therapy, she hit upon the concept that "there is no freedom without responsibility."
"I realized that I hated it because I didn't feel responsible for my disease," Schell says. But she also knew that if she could identify and come to terms with things that had led to her physical ailment, she could do something about it. One difficult thing she had to come to terms with was that she had replicated her troubled childhood in her marriage. It eventually ended in divorce.
Over the course of several years of ongoing therapy and continued alternative medical treatment, Schell's MS symptoms began to disappear. She started walking better. She began to have more energy. The numbness and tingling became less severe, although it remained longer than some of her other symptoms.
Her MS symptoms disappeared entirely within a few years, although Schell says it took her about 10 years to "really begin to feel vital for the first time in my life." At 63, Schell says she has been free from the disease for 12 years.
"What I want to tell people with MS is that they can get well," she says. "People are generally being told that it's still incurable, that they have to take all these medicines" to treat the symptoms. Along with her own success with treating depression, Schell cites research done by psychologist Darlyne Nemeth at the Neuropsychology Center of Louisiana concluding that treating depression helps alleviate MS symptoms.
"Many people with MS say, 'Well, that won't help me because I'm not depressed,'" Schell says. "I would have said I wasn't depressed, too. It just becomes your normal."
Schell gave up nursing and got her master's degree in counseling psycology. She's now a licensed professional counselor, and has written a book about her experience with MS, "Heal from the Heart: Odyssey through Nature, Soul and Recovery from Multiple Sclerosis." She also conducts seminars for people suffering from chronic diseases.
"I feel like what I'm doing is introducing people to the possibility of what they can do," she says. "The fact that I've recovered from this makes a huge difference."