Friday, September 5, 2003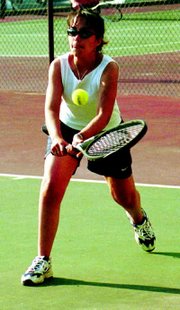 It's gonna be hard for the Hood River Valley girls soccer team to top last year.
After all, it doesn't get much better than an undefeated league run, the first playoff win in the program's history, and a record nine all-conference selections.
No one expects the Eagles to replace the conference Player of the Year (Becca Meierbachtol) or three-fourths of their starting defense. The reality is, you don't replace 10 seniors. You just reload with what you've got and hope for the best.
And what coach Sue Farro has this year is three hard-nosed seniors, a tenacious junior class, and a freshman forward (Justine Bryant) who "gets to everything."
"We're really excited about this team," said Farro, the fifth-year head coach who is entering this year with a ton of optimism. "They all have really good team spirit, and we can't wait to show the town our team."
The Eagles are led by 2002 first-team all-conference players Acer Lopez (striker) and Lisa Tedford (sweeper), along with returning starter Anna Hidle (center mid).
The three seniors have all played significant varsity time over the past two years, and are primed to surprise the Intermountain Conference in 2003.
"Acer has come back smarter, and seems to be using her teammates more," Farro said. "Lisa is a natural leader for us in the sweeper position, and Anna can do it all. So, up the middle, we're almost as strong as last year."
On the midfield wings, Farro will turn to HRV basketball standouts Kristen Hedges and Katie Flory, and up front she will seek help from Bryant and Lopez, the team's leading scorer in 2002 with 16 goals.
Farro says Bryant has all the makings of a quality complement to Lopez, while Flory, Hedges and Hidle all have a nose for the goal.
"The nice thing about this team is that everyone can score goals," Farro said. "We have two who can really score, and a bunch of others who can score."
Also seeing time at forward this year will be sophomores Jessica McMorran and Emily McCallum, and senior Courtney Smith.
Helping out in the midfield this year will be sophomore Kaitlin Bauld, McCallum, McMorran and Tedford. And joining Tedford on the back line will be juniors Emily Sager and Alicia Friend, sophomore Kelly Durkan and freshman Jessica Ostler.
Which leaves the goalie, sophomore Rochelle Friend.
"Rochelle is a great softball catcher, and we thought we'd try her out," Farro said. "And she has really come on in the first few weeks. Her instincts are good and she's a talker, which is good. What she lacks in height, she makes up for in attitude."
Farro said that a few of her starters are locks, but a number of positions have yet to be determined.
"We have a puzzle with a lot of different pieces this year," she said. "We have a ton of great athletes, but we still need to polish our game as a unit."