Tuesday, September 9, 2003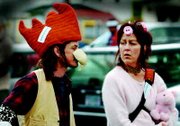 The threat of wildfire looms large in every forest during hot and dry weather — but Hood River County has taken steps to lessen the potential damage to its timber.
Last week, while fire raged at Cascade Locks, the County Commission went on its third and final field trip to woodland properties under the management of Forester Ken Galloway. During the past month, the officials have visited the 31,000 acres within the county and about 18,000 purchased last year in Eastern Oregon.
These tours were sparked by the growing debate over the Healthy Forest Initiative that is being championed by U.S. Rep. Greg Walden, who makes his home in Hood River, and President George W. Bush. Arguments are currently waging over the potential dangers versus ecosystem benefits of leaving dense underbrush and downed trees in the National Forest system. After hearing both sides, the local elected officials decided to learn more about the issue. They wanted to see how the long-term management of county forests, which includes an active thinning and salvage program, was working.
Galloway, who has been with the county for almost 29 years, is charged with keeping the timbered properties healthy and productive so they continue to generate an annual revenue of about $4 million. The top forestry official was pleased to show off 10 years of new management practices that he believes has provided better protection for the trees. He has instigated the following three key methods for keeping forest zones healthy and productive:
Thinning dense stands of timber and removing bug-infested or unhealthy trees to prevent the buildup of a fuel load and maximize the use of soil nutrients.
Development of a pond system in cooperation with Longview Fibre Company to provide firefighters with easier access to water sources.
Utilizing county gravel pits to begin rocking the 214 miles of primary forest roads for passage by emergency vehicles — while eliminating secondary roads to discourage motorized public access into wooded areas.
"About 10 years ago, we suspected that we were vulnerable to fire because we had too many trees per acre. Our hope now is that if a fire started, it would stay on the ground and be easier to control," Galloway said.
He said select snags and downed timber are left on the forest floor to provide necessary wildlife habitat. But trees that are earmarked for future harvests are carefully tended to maximize their potential. According to Galloway, between one and two thinnings are done in the forest before a major cut takes place, between 85-95 years in the eastern sector of the state and 65-75 within the county.
He said the size of marketable trees ranges by area but the maximum girth that can be run through most saw mills is 28 inches. On one of their visits, the Commissioners were provided the opportunity to watch loggers in action, witnessing the difficulty of handfalling a tree that had intertwined its branches with a neighboring species. In addition, they viewed Galloway's experimental plantings of Sequoia Redwoods and heard his plans for possibly recycling scrap wood from a logging operation into wood pellets or another commercial use.
Commissioner Carol York, who also sits on the county forest advisory committee, said the officials were thoroughly impressed with the knowledge they gained on their excursions into the forest.
"Our main concern was the health of our forests, and it appears that our county forestry department is well managing a renewable resource," York said.
In spite of his many responsibilities, Galloway maintains a good sense of humor that is evidenced by the names he and his six staffers have assigned to timber sales. In the southern sector of the county, acreage set to be logged is referred to as an animal species, with titles of properties around Fir Mountain listed as a male name. On the west side of Hood River the marketable timber is called some type of plant and on Middle Mountain it is specified as a piece of logging equipment. Galloway said the underlying reason for the creative names — which have included Vermilion, Skunk and Rhubarb — is that even if people are having difficulty pinpointing the exact geographic area of a sale they are immediately oriented toward the general vicinity.
"We have a lot of fun with this, everyone throws in suggestions," he said.
Because recreational use of the forest is growing, Galloway is currently working on the final draft of an ordinance to protect natural resources. His proposal will be reviewed by the county board on Sept. 15 at 6 p.m. in the second floor conference room of the county courthouse.