Tuesday, September 9, 2003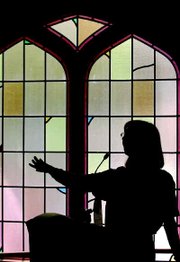 HOOD RIVER — It took them roughly 40 minutes to get on track, but the Hood River Valley Eagles still got their first win of the season last Friday.
Led by senior Alex Ponce's two goals, the Eagles overcame a sluggish first half to defeat Crook County by a score of 4-0.
"We didn't really show what we have this game," said Ponce, the team's captain and starting center midfielder. "Some of the guys are still learning their roles, and it may take a few games for us to find a good rhythm."
Ponce and the Eagles were unable to capitalize on a series of chances in the first half, and went into the intermission tied at 0-0.
But junior Jorge Hernandez found the net just minutes into the second half to get HRV rolling.
Senior Jake Pruitt padded the lead midway through the half, punching the ball in after a scramble in the box. And then Ponce came alive, scoring first on a penalty kick, and then on a blistering shot from the top of the box with roughly 5 minutes to go.
"We dominated in the first half, but couldn't find the goal," Ponce said. "So we calmed it down and started talking to each other in the second half, which helped us take over the game."
But the main reason for the second-half revival was that the Eagles bought into coach Doug Beveridge's game plan of attacking from the back.
Crook County was unable to advance the ball into HRV's end because the Eagle defenders met them at midfield instead of allowing them to creep into the box.
"The guys are starting to believe in our game plan more," Beveridge said. "It works if you just stick with it, and I was happy to see some of the young players start to pick up the strategy."
Outside backs Miguel Najera and Jesus Lara started to relax more in the second half, and showed more consistency — something the team will need as it looks for a complement to sweeper Sean Rawson.
The junior returning starter played steady all game, and gave the midfielders time to get back on defense when needed.
Alvaro Lara, Jose Avila, Todd Price and Stephen Hanners each started off well for the Eagles, who are preparing for a major early-season test on Thursday with the 2002 league-champion Redmond Panthers.
"We seemed to have bad luck against those guys last year," said Ponce, whose Eagles lost to and tied Redmond last year. "But we got the better end of the deal by advancing in the playoffs, so they aren't going to take us lightly."
HRV knows that this year's race in the Intermountain Conference is going to come down to only a few points. And any time they face a playoff team, they want to make a statement.
"There's no doubt this game is big," Beveridge said. "Really big."