Tuesday, September 9, 2003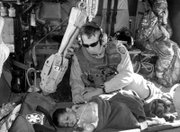 The seeds of Taarka were planted as early as fall of 2001, however, David Tiller and Enion Pelta were both playing in a bluegrass group in Williamsburg, Brooklyn, New York. The group, Brooklyn Browngrass, was doing well, but not satisfying either of their creative desires to the fullest.
In late 2001, David called up his old friend Jarrod Kaplan (known locally with his percussion in Hanuman). They spoke of many worldly things before coming to the crux of the matter - Dave and his fiddlin' friend Enion were planning to move to the Northwest, had some material together, and wanted to play when they arrived. Jarrod, being his adventurous self, asked the two to send him a recording of their music. He did not receive anything until they had arrived in Portland and gone up to visit him in Seattle, where they burned him a disc of their latest creations while sitting on his living room floor.
From the first, the three loved playing together. They continue to do so, and since the addition of a new bass player Jason Flores, a great player well-educated in jazz and middle eastern music, Taarka's changing and growing in some new directions.
This Friday, Taarka and the amazing percussion of Kaplan returns to the River City Saloon for a 10 p.m. show. There will be a cover charge.
Up to this point, Taarka's creative venture has taken them to numerous festivals on the West Coast, where they've shared stages (sometimes at the same time) with David Grisman, Darol Anger, Mike Marshall, Leftover Salmon, Yonder Mountain String Band and Garaj Mahal, among others. At this year's High Sierra Music Festival, no less than Col. Bruce Hampton of the Code Talkers and Aquarium Rescue Unit called Taarka his "favorite band of the festival." They've toured up and down the West Coast as well, and were met in New Mexico, Arizona and Colorado with glowing response.
On Saturday, the Bachelors of Science brings its full seven-piece funk crew to the River City Saloon for a night of dance floor mayhem.
They love to bring back the old school with a full horn section and blazing Hammond Organ, but at the same time putting a modern spin on things. For more information, visit www.rivercitysaloon.com.