Friday, September 12, 2003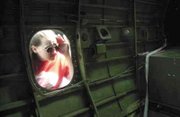 Hood River County officials are trying to accommodate growing recreational use of public forests while still protecting natural resources.
On Monday, the County Commission will review a draft plan to regulate trail systems on 31,000 acres within its jurisdiction. That hearing will begin at 6 p.m. in the second floor conference room of the county courthouse, 309 State Street.
"This ordinance is just a broad and general start and as trails are developed and recognized it will have to be modified to deal with issues that come up or require an exception," said Forester Ken Galloway.
He worked with the county's Forest Advisory Committee to craft the basic framework of the proposed code. The intent of the regulations is to provide tourism opportunities while curbing destructive activities. For example, Galloway said "extreme" mountain bikers are damaging trees by fastening elaborate ramp systems to trunks and branches. In addition, he said the long metal screws used during the construction process endanger harvesters and mill workers since they turn to "shrapnel" when hit by cutting blades. Galloway is also worried about the possibility of serious injuries since some of the makeshift ramps are extremely narrow and built up to 20 feet above the ground, with long jumps in between structures.
Another concern for the county Forestry Department is the unofficial trail blazing that has occurred along the embankments of some fish-bearing streams. Galloway said that action has created an erosion hazard and filled the waters with sediment during heavy rains.
"We see this ordinance as an opportunity to educate trail users about the forest and eliminate these liabilities," he said.
If the county board adopts the Forest Recreation Trails Ordinance, Galloway said an advisory committee will be set up to select locations for designated trails. The membership of the group will include outdoor sports organizations, including bicyclists, motorcyclists and horseback riders. They will also be tasked with recommending rules for allowable uses in each area.
Galloway is confident that with an official plan in place, the county will be able to score grant funding for trail development. He said those monies could be used to create a map of the trail system to post on the county website:
www.co.hood-river.or.us.
He said these dollars will also allow warning signs to be posted during extremely dry conditions to prevent fire danger and wet weather to stem erosion from dislodged soil. That signage would also encourage users to protect the trails and the rights and property of adjacent landowners. Eventually, Galloway said enforcement actions and a fine schedule will likely be incorporated into the ordinance.
He said the county is supportive of continued recreation on forest lands — as long sanctioned activities don't harm the marketable timber that yields an average of $4 million in revenue each year.