Friday, September 12, 2003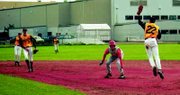 REDMOND — Adjusting to the pace of high-school soccer can be a long road for some players.
But if you're Justine Bryant, the Hood River Valley girls' newest offensive star, you just take the game — and the passes — in stride.
The freshman playmaker scored her third, fourth and fifth varsity goals on Thursday at Redmond, capitalizing on three picture-perfect assists from Lisa Tedford, Katie Flory and Anna Hidle.
But it wasn't enough, as HRV absorbed its first loss of the season by a 4-3 count.
"Redmond was a little better team than last year," coach Sue Farro said. "They were really fast on the wings and seemed to have more experience than us. But we never gave up, and I would say we still took a step forward."
As for Bryant, who also scored twice in the Eagles' opener last Friday, Farro said she has continued to grow by leaps and bounds, and is already one of the best finishers she has seen at HRV.
"I can't imagine what it will be like when she's a senior," Farro said. "She just doesn't miss the net. But her teammates are also doing their part to give her chances."
Redmond was ahead 1-0 at halftime, and maintained a one-goal advantage for most of the second half. Bryant's first goal came on a stunning through ball from Tedford, but the Panthers came right back to go up 2-1.
Then, Flory tossed a perfectly-placed throw-in to Bryant in the box, which she buried to tie the game again at 2-2.
However, Redmond was able to creep away, scoring their third and fourth goals before Bryant could work her magic another time.
"It would have really helped to have Acer (Lopez) there for some added firepower," Farro said of her senior striker, who was injured in last Saturday's jamboree.
"But it's still early. We know we're going to be a good team, and we just have to learn from losses like this one."
Farro also credited her defenders on a game well played. Led by freshman sweeper Jessica Ostler and junior outside back Alicia Friend, the Eagles scratched and clawed right until the final whistle.
"We put everything we had out there, and never gave up," Farro said. "We have a lot of positives to take away from this one."
Next up for HRV is the home opener Tuesday against Bend.