Friday, September 12, 2003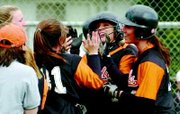 "It's your only home meet of the year, so you had better make it a good one."
Hood River Valley cross-country coaches Kristen Uhler and Rich Hedges probably said something similar to their runners before Wednesday's Skip Sparks Invitational, which was to be the only meet held at HRV all season.
In some cases, like with junior Alex Jimenez, the home-course advantage worked wonders. But with others, like the youthful HRV girls varsity squad, it was less of a factor.
"We have a lot of work to do," girls coach Kristen Uhler said of her team, which finished fifth out of five teams with a combined time of 1:59:51.
"We're really young and not very disciplined yet. I'm not disappointed in their effort, but I thought we could have done a little better," she said.
That is the feeling that Hedges walked away with from last weekend's first race at Madras.
But this time around, he was beaming, saying things about his team like "committed" and "motivated."
"We came a long way in only a few days' time," Hedges said of his team, which finished fifth out of eight teams with a combined time of 1:30:25. "All 11 guys who went to Madras improved, and the kids are really starting to show me a new level of commitment."
As expected, Jimenez was the standout for HRV, placing sixth with a time of 16:40.80. Senior Graham Hay improved two minutes with a time of 18:03.80 (22nd overall), while junior Jess Jennings came in third on the team with an 18:23.80, good for 30th place overall.
Senior Fernando Ochoa finished fourth for the Eagles with a time of 18:28.60 (32nd overall); Mat Foster was fifth at 18:48.50 (35th overall); senior Brian Crosswhite was sixth at 19:06:40 (42nd overall); and sophomore Kevin Dye was seventh at 19:24:20 (45th overall).
"I improved my time from Madras by more than three minutes, so I'm pretty stoked," said Crosswhite, the team's captain. "All of us seemed to do better because it wasn't as hot as down there. I'd say today was the perfect day for a race."
However, while the varsity boys thrived on their home course, the varsity girls struggled, totaling 122 points — 45 more than fourth-place Redmond.
The Eagles' top finisher was senior Caitlin Becker, who came in 27th place with a time of 23:41.80. Sophomore Janne Lucas finished in 28th with a time of 23:45.00, while sophomore Jennifer Jeffries took third on the team and 30th overall with a time of 23:56.90.
Sophomore Melissa Princehouse completed the 5-kilometer race in 24:03.30 (31st overall), sophomore Jenna Fisher finished in 24:24.10 (34th overall), sophomore Christa Chandler finished in 24:44.10 (40th overall); and freshman Melissa Kauffman finished at 26:00.20 for 42nd place overall.
"Hopefully this race showed our girls what they need to work on," Uhler said. "And I think they will respond."
Next up for both teams is the Seaside Three-Course Challenge on Sept. 20.
*****
The HRV boys 5K junior varsity results on Wednesday were highlighted by Chris Jennings (19:57), Carlos Quintana (20:03) and Joel Miller (21:21). The girls JV results on the 3K course were highlighted by Susi Valle (14:20), Komisa Schwartzel (14:29) and Chelsea Nance (15:45).
Sixteen JV boys ran Wednesday's race, while only six JV girls competed. Only a handful of the JV runners will travel to Seaside.