Tuesday, September 16, 2003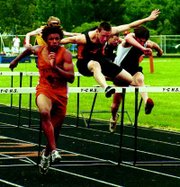 After a hiatus of more than two years, cooking classes will resume this month at AnnzPanz.
Owner Carrie Nelson and chef Jim Jordan announced that Heather Staten will coordinate the cafe's first cooking classes since Annz Panz moved up the block in May 2001.
The 6 p.m. Sept. 23 opening class features chef Gayle Jolley in an "End of the Summer Farmer's Market Celebration."
As a professional chef since 1988, Staten's career has included stints at Olivarto and other San Francisco Area restaurants, as well as private catering with some of the West Coast's most exciting chefs. Staten has also spent extensive time in England, primarily as Executive Chef at Bristol's Quartier Vert, one of the original proponents of organic food in Britain and the caterer to Prince Charles at his County Estate, Highgrove. Most recently, she is a Chef Instructor at the In Good Taste Cooking School in Portland's Pearl District.
Portland chef and cooking instructor Jolley is founder and former owner of the In Good Taste Cooking School. Jolley, in 25 years as a Portland culinary professional has served as catering director for the Heathman Hotel, Hotel Vintage Plaza and Pazzo Ristorante.
"Gayle's class and menu for 'End of the Summer Farmer's Market Celebration' will be educational, delicious and really fun," Jordan said.
The class will cost $50 per person and includes a five-course meal. Future classes, with a variety of chefs and pastry chefs, will occur about twice a month, Nelson said. Costs will range as low as $25. Call 387-2654 or stop by 315 Oak St. to sign up.