Tuesday, September 16, 2003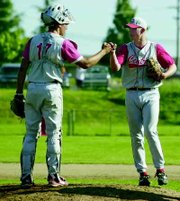 Quiet the library was not.
About 300 people of all ages crowded Hood River County Library for the grand re-opening event Sunday — a day the library is normally closed.
Staff checked out books — and DVDs, a first for the library — while residents checked out the renovated and expanded library, enjoying local musicians and readers, and cake and coffee. Old friends traded stories and greetings in a building that connected the 1913 Carnegie Building to the new addition. The revised library contains more room for books, expanded seating and meeting areas, more computer access, and an expansive children's library.
Some people were seeing the library for the first time since it closed in June 2002 and moved to temporary space across the street. Though it has been open since July 31, the Library Foundation-sponsored party was the building's re-introduction to the community.
"This is a gift to our children," Library director June Knudson said during a short ceremony Sunday. "I hope that generations to come will keep coming to the library."
A brother and a sister agreed the gift was a good one.
"I think it's cool," said Andrew Thompson, 9, checking out books with his twin sister, Emily. "I like the colors in the Storybook Theatre," Andrew said.
That downstairs room, set aside for group reading activities, was a busy place Sunday as Andrea Schock read aloud from the Emma June Kenworthy Chair, made possible by volunteer donations in memory of the library supporter.
"I love it. It's got room to move about, and room for more books," said Marcus Jensen of Hood River, who in the past two years has used the county library all but five days it has been open.
"I think it's just beautiful," Dorothy Swyers said, in her first visit. "They designed it very well, connecting the new part to the old building. I love the way the light comes through," she said, pointing to the north and south-facing glass walls in the new great room.
People packed between those walls to hear Knudson and others thank the community.
"Just look at what you did. Great job, Hood River," Library Foundation president Linda Rouches said as she thanked the community, architects, builders, library staff and county building staff members, and volunteers who had a hand in the $4 million project over the past five years.
"The blend of the old and new gave us a work of art," Rouches said. Key individuals present Sunday included primary architect David Wark of Fletcher Farr Ayotte of Portland, grant writer Paul Lindberg, project manager Jeff Caldwell of general contractor Baugh Skanska, county administrator Dave Meriwether, County Commission President Rodger Schock, and Dean Guess, director of Parks and Buildings for Hood River County.
Rouches then asked for a show of hands from anyone present who had donated funds, shelved books, or volunteered in any way with the library in the past five years. Close to 75 people chose to raise their hands.
"What a delight it is to see the result of this effort," said Jim Kelly, who started the Library Foundation in 1998 after he and other library supporters grew concerned about the deteriorating facility.
"Almost everyone here has a memory of what the library used to look like," said Kelly, the long-time Hood River News publisher who now lives in Utah. He saw the library project through the first three years — including passage in 2000 of the $3 million bond project that made it possible.
"That was a case of good timing," he said. "If that vote had happened three months later, given the decline in the economy, I doubt it would have passed."
"I am delighted Hood River has given this facility to the community, and the future pursuits of literacy and education of Hood River," Kelly said.