Tuesday, September 16, 2003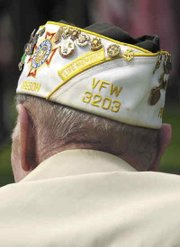 Two days of sunshine, lots of color, good food and music were the ingredients for the second annual Fiesta Celebration Saturday and Sunday at the Hood River County Fairgrounds.
This year the event boasted more musical acts, a soccer tournament, carnival rides and a car show, building on the success of last year's celebration.
No attendance numbers were available, but organizer David Kirkwood of the sponsoring Pine Grove/Odell United Methodist Church was pleased with the response.
"It was busy all weekend, and then we had a huge crowd Saturday night, and again Sunday about two hours before closing," he said. "We had a great turnout."
The church organized the weekend as a way for Hispanics and non-Hispanics alike to experience the cultural tradition of Mexican Independence Day, celebrated in Mexico on Sept. 16.
Martin Acala, deputy consul at Portland's Mexican Consulate, came Saturday to elaborate on the celebration and the significance of that date in Mexican history.
Musical acts and folk dancers performed both days to a good crowd. Three bands — Los Diamantes, Los Temerosos, and La Fantasia — took turns entertaining over the weekend, and local talent took the stage as well.
Young standout Brittany Harris wowed the listeners with her vocal range and strong voice when she performed on Sunday, as she had also done at the county fair's talent show.
Adding color and liveliness to the stage were the members of Hood River and Odell Ballet Folkloricos groups, who performed regional folk dances both days.
Filling the air along with the music was the savory aroma of carnitas and sweet wafts of cinnamon-sugared bunuelos (deep-fried flour tortillas). Other food booths offered tacos, tamales, fruit cups or snack foods.
Volunteers from the Pine Grove/Odell United Methodist Church worked several booths, including one for face painting. The artists in this popular canopy had a constant stream of faces to keep them busy.
Children who weren't lined up at the face-painting booth or watching the serious business of having color applied to others' faces were chasing around showing off their decorated cheeks and noses; some dragging around as a trophy the remnants of one of the many pinatas broken over the weekend.
Teachers and staff from Mid Valley Elementary School handled the pinata games, overseeing the gleeful destruction of 16 pinatas before the event was over.