Tuesday, September 16, 2003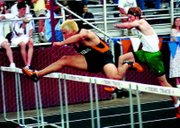 A group of "dynamic" volunteers has teamed up to help senior citizens and disabled residents manage their finances so that they live independently.
The Adult Convervatorship Plus (ACP) program has been initiated by the Hood River Valley Adult Center in cooperation with Providence Hood River Memorial Hospital and Columbia River Bank.
Heidi Musgrave, adult center director, said $3,790 of startup funding for the new program came from the Mid-Columbia Council of Governments (MCCOG). She said another $2,500 was donated by the Providence Hospital Foundation. In addition, Phil Jensen, owner of Luhr Jensen and Sons, is footing the bill for the printing costs of brochures and other materials.
"Our goal is to keep our clients in their homes, keep them comfortable and make sure they have enough assets to maintain a quality lifestyle," Musgrave said.
She brings eight years of experience as director of the center to the new program. In addition, she has partnered with Tom Kelly, who is currently employed as resident relations coordinator with the local hospital, but also worked for about 12 years as a case manager for seniors with MCCOG.
Ten professional volunteers have already completed the two full days of training necessary to learn Social Security and conservatorship regulations. Musgrave said six more people are currently being educated about the program that has been modeled after one instituted by the American Association of Retired Persons in 22 states.
One of these trainees is Juliana Sandahl, who had a late aunt in her 90s who had faced a struggle to keep track of her daily affairs while remaining at her Florida home.
"It would have been wonderful if she had something like this," Brown said.
Kelly recently visited with Hood River Circuit Court Judge Donald Hull to brief him on the merits of the program. He and Musgrave would like to have their volunteers appointed as financial guardians in cases where people over the age of 60 or disabled persons are no longer able to oversee their own Social Security funds.
"We want to give help where help in needed," Kelly said.
Under the conversatorship program for Social Security recipients, Musgrave said Columbia River Bank will play a key role by setting up and monitoring a trust account at no charge. Once a needy individual is referred by the court, they are matched with a volunteer and the accounting system to run their household is established. She said that option eliminates expensive attorney fees and allows for more personalized service.
Other potential clients for ACP are referred by local family service agencies and are then screened by Musgrave or Kelly for eligibility. They are then matched with a compatible volunteer who will help them set up a budget and balance their checkbook.
There is no charge at this time for beneficiaries of the money management program. However, Kelly said in the future a sliding fee scale will be established for individuals who can afford to pay for the service. These funds will be used to train more volunteers as needed and assist with their continuing education.
Musgrave said Wasco County already wants to sign on for the program and she anticipates that it will one day also be offered in Sherman, Wheeler and Gilliam counties.
Kelly said several years were spent researching potential options before the ACP program was chosen.
"It took us a long time to get where we're at because we didn't want to reinvent the wheel, we just wanted to find a program that was a good match for Hood River County," he said.
For more information on ACP, call Musgrave at 386-2060 or Kelly at 386-5115.