Saturday, September 20, 2003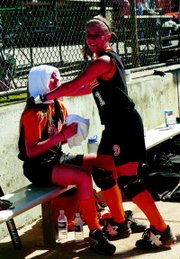 A slice of history was removed from Hood River on Tuesday when a 1950s-era Federal Civil Defense "mobile hospital" was loaded crate by crate onto a Northwest Medical Teams truck and hauled to the organization's Portland headquarters.
The hospital, which consisted of wooden crates packed with supplies ranging from Army green cots and litters to surgical equipment and water tanks, had been stored in a warehouse at the county public works compound since the 1960s.
"It's like M*A*S*H," said Undersheriff Dwayne Troxel, who was inventorying the equipment before it was loaded onto the waiting truck. "It's a Korean War-era mobile hospital." Mobile hospitals like the one stored here were distributed to cities and towns around the United States during the Cold War by the Federal Civil Defense Administration. The FCDA was established by President Harry Truman in 1951 after the Soviet Union tested its own atomic bomb, heightening the stakes of the Cold War.
Distribution of mobile hospitals was, as Troxel put it, "just in case of the big one."
The wooden crates filled with Hood River's mobile hospital have never been opened. One stack of crates was labeled, "Wool blankets, mothproofed. Date packed: 8/55." Nearby, a pile of burlap bags noted that they contained surgical gowns. Still other crates were packed with IV injection sets and prescription bottles.
According to Troxel, the Federal Emergency Management Agency — today's version of the FCDA — recently asked the county to donate the mobile hospital to a charitable organization.
Northwest Medical Teams, a non-profit humanitarian aid organization that sends medical teams to trouble spots around the world, will sort through the equipment and use what it can.
"Components of it might end up in Afghanistan, Iraq, Liberia," Troxel said. "Some of it they might find is no longer useful at all."