Saturday, September 20, 2003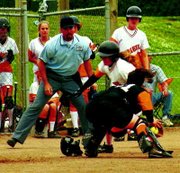 BEND — All they needed was a little scare and the Hood River Valley Eagles were right back in the win column.
After last week's 5-1 home defeat at the hands of Redmond, the HRV boys soccer team picked up the pieces and did the same thing to Bend on Tuesday, winning 5-1 on the road.
Senior Alex Ponce scored three of his team-high five goals, while junior Jorge Hernandez netted another to give him three on the season.
Senior Jake Pruitt scored his second goal for the Eagles, who received an additional boost from midfielders Alvaro Lara, Jose Avila, Todd Price and Stephen Hanners.
Coach Doug Beveridge also pointed to a solid outing by senior goalkeeper Julio Loza, who was anxious to help HRV atone for last Thursday's loss.
"Everybody responded really well after the loss to Redmond," said Beveridge, whose team moved to 2-1 in the Intermountain Conference before Friday's road game against Summit (results not available at press time).
"We were all over them, and the score could have easily been 7-0 or 8-0. Bend is a young team that is in the lower half of the league this year. But they played clean and were good sports, so we just used the opportunity to get all of our guys some playing time," he said.
Beveridge said all of his players saw at least one half of playing time, which will help the team as it prepares for the second half of the schedule.
"Games like this give all the guys experience, which is good because I'm going to need them as the season moves along," Beveridge said.
Most of the Eagle starters are healthy, with only two notable injuries thus far.
Sophomore striker Obed Garduño injured his leg against Bend, and is out until further notice.
Meanwhile, starting outside back Jesus Lara is nursing a strained hamstring. But Beveridge was confident that he would be back in the lineup by Friday.
Next up for the Eagles is a home date with Hermiston, followed by another road trip to Bend on Sept. 27, when they will face 2002 playoff team, Mountain View.
However, while the Cougars are traditionally one of the stronger teams in the IMC, Beveridge thinks this season's conference race will come down to Redmond, Summit and HRV.
"Mountain View and Bend will probably battle it out for the fourth spot," he said. "The other three teams (Hermiston, Pendleton, Crook County) don't have much, so I think the top three places are set. It's just a question of where we will finish."
Beveridge just hopes his Eagles can "hold serve" with Redmond until they meet again on Oct. 7.
"If we win the games we're supposed to, we should still have a shot at the league title," he said. "But anything can happen, so we're taking it one game at a time."