Saturday, September 20, 2003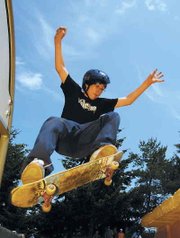 A group of more than 30 Korean War veterans gathered in Hood River this week to trade stories, share camaraderie and revel in long lives.
The men are veterans of Able Company, 1st Marine Division, and they traveled to Hood River from all over the country this week for their 15th annual reunion.
For all the veterans, this year marks the 50th anniversary of the end of the Korean War. And for many of them, it was 53 years ago this week that they stormed the beaches at Inchon in what ended up being a successful drive by United Nations-backed U.S. forces to retake Seoul less than three months after the North Korean People's Army had invaded South Korea and launched the Korean War.
Several of the veterans in town this week gathered at the Hood River Inn on Wednesday — the first day of the four-day reunion hosted by Husum veteran Bob Nippolt — to remember the invasion and the first tense night they spent on the road from Inchon to Seoul under heavy fire by the North Koreans.
"Our company was surrounded by a North Korean regiment," recalled platoon leader Jack "JJ" Swords. On Sept. 15, 1950, his platoon and two others, after successfully making it ashore in one of the landing waves, encountered heavy resistance as they made their way toward Seoul. By nightfall, Swords' platoon was low on ammunition. Then their radio malfunctioned, cutting them off from any possible support.
"We were all by ourselves and up against a regiment," said Swords, 79. "We were destined to have a terrible night." More than 200 men hunkered down for the night, digging foxholes in the sand at the side of the road.
Swords ordered his men to conserve ammunition — a difficult task as they were under perimeter attacks and sniper fire from all sides. At one point during the night, several North Korean tanks appeared on the road and began firing. The tanks were within 30 feet of some of Swords' men. The Marine platoons managed to take out two of the tanks, and the others eventually retreated.
Despite the odds, the Marines suffered few casualties from the difficult night and continued on to Seoul the next day.
"We had a reputation for being Able-Able, hot to go," Swords said. "Nobody could beat us."
As more and more veterans arrived for the reunion Wednesday and gathered in a banquet room at the hotel, they recalled other memories from the war. Many of them, including Swords and his platoon, went on from the successful Inchon invasion to the miserable Chosin Reservoir debacle a few months later, where thousands of Marines, surrounded and cut off by an overwhelming Chinese army, were killed or died from the cold before finally retreating to the Sea of Japan.
Nearly all the men gathered together on Wednesday were recipients of the Purple Heart. One of them was Neil Ness, a lieutenant who was in Korea for only three months before he was badly wounded when he caught an incoming grenade which exploded before he could lob it back at the enemy. He remained unconscious for the next three months — including several weeks spent in a Tokyo hospital — finally coming to when he arrived in California aboard a hospital ship.
Ness, 75, lost his left arm and suffered extensive wounds to his head and face, as well brain damage and partial blindness.
"(Ness) is our hero," said Ellis Reynolds, 71, a member of Able Company 1st Platoon. But for Swords, who instigated the first of the now annual reunions of Able Company in 1988, all the men gathered here this week are heroes.
"We're an extremely proud company, a proud group of Marines," Swords said. "We never lost a battle, and we never didn't take an objective we were asked to take."
The Able Company veterans have had as many as 68 men at past reunions. Every year, the numbers dwindle.
"It's that time," Reynolds said. "We're losing one or two each year." That just seems to draw the men closer.
"We're a family," Swords said. "I consider all these guys my brothers."
Neil Ness perhaps summed it up best.
"We just get together and talk about what happened," he said. "We don't see each other very often, but when we do, we all feel better."