Saturday, September 20, 2003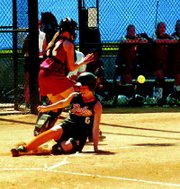 Kim Yamashita will be present, in spirit, at high school commencement in 2011.
Yamashita, a Westside Elementary kindergarten teacher who died of breast cancer Sept. 15, will be remembered by students for her inspiring methods, and by colleagues as a loving person, a master teacher constantly driven to learn.
"We all loved her very much ... she always told me to believe in myself," wrote fifth-grader Jody Kunigel in a letter that will be among the items placed in a time capsule for opening by classmates in 2011.
"Whenever I try to do something I will always think of her," Jody said Thursday of her former kindergarten teacher. "I'll remember her because she made me know I can do it."
"She taught me how to appreciate everybody for what they are and not what they have," Jody said.
The community will gather in memory of Yamashita Saturday at 10 a.m. at her church, Vineyard Fellowship. A reception will follow at Westside, hosted by the PTO and the staff of May Street Elementary. (Please turn to page A5 for full obituary.)
"Kim was never one to do things in the spotlight. She was always behind the scenes," said her husband, Ron, a third-grade teacher at Westside. "She didn't like the limelight but she put children first. Many times she'd be at school until all hours and I'd be home cooking, and she'd be there on the weekends, which was great. She loved the little ones."
Kim had hoped to return to school this month, and as late as July had the doctor's clearance to do so. But Ron said tests showed in August that her cancer had spread. After radiation her condition was too weak for chemotherapy treatments, and she knew she would not be able to work again, Ron said.
"An awesome woman," is how instructional assistant Claudette Adams described Kim Yamashita.
"She had a loving demeanor for adults and children," Adams said.
Another colleague called her "a firm believer in hope."
"She always thought the best about anyone, and believed there was hope for anything," said Cheri Johnson, who was Yamashita's instruction assistant.
"Her kids absolutely loved her. I admire her courage, her love of life, and her love of people," Johnson said.
Terri Vann, Yamashita's principal, called her death "a huge loss."
"It is a loss for the community, for the parents, for the students, for the entire school district," said Terri Vann, who taught with Yamashita at May Street 27 years ago.
"She was an instructional leader. She touched so many lives," Vann said. Yamashita taught two classes per day throughout her career, meaning more than 1,000 students got their first taste of reading, writing and arithmetic — along with seaweed they sampled and "Stone Soup" and birthday cake the kids made themselves in Yamashita's hands-on lessons.
Betty Shalhope said Yamashita had "a can-do attitude" throughout he career and perhaps moreso in the last six years of her life as she battled cancer.
"She stayed strong. Who knew how sick she was?" said Shalhope, who was Westside principal until retiring three years ago. Yamashita was diagnosed in December 1997 but kept working that school year, going to half-time while undergoing chemotherapy and radiation treatments.
"While we were feeling grief stricken about her cancer, she lifted us up," Shalhope said.
Teacher Sue Anderson said that "until the last few weeks of last school year, she never stopped." Anderson and Yamashita were teaching partners for the past four years; Anderson is currently on leave of absence and serving as Vineyard's co-pastor with husband Denny Anderson.
"She was always looking for something fresh, new and interesting for he kids. She made things, she looked for new ideas, new books, new ways to teach," Anderson said. "I was amazed. While I was bringing closure to my teaching experience, at least for a time, she was pushing forward."
"She had a strong will," Adams recalled. "If she believed in something, she believed with every bit of her being." In that way, Yamashita led by example and always wanted the entire school to be lifted up for any accomplishments."
"She would say, 'We need to shine as a family, not as individuals'," Shalhope said. "She believed we all had to be involved to make it work."
Yamashita and first-grade teacher Nancy Maynard traveled to New Zealand together in 1994 to study how schools taught reading in that country, considered the world's best for literacy instruction. Yamashita and Maynard came back and passed on what they learned to the rest of the staff, and the lessons remain in use today, Maynard said.
"Kim believed that if you want to be the best you have to learn from the best," Maynard said. "In New Zealand we learned an attitude of teaching, of dealing with the individual child, in writing and presentation," Maynard explained. "Kim believed a child as young as kindergarten could take as small amount of reading as they knew and produce something. They (her students) were writing stories.
"She never stopped learning," Maynard said.
"She took every class that was available," technical specialist Joyce Jennings said. "She always wanted to be learning. She took what she learned and integrated it, always with an emphasis on technology."
Jennings called Yamashita "an expert in a lot of things," including Powerpoint. Jennings said that when staff members had questions about technology applications, she often referred them to Yamashita.
"She even took a video editing class with me," Jennings said. "She was the only kindergarten teacher. Someone said, 'Why would a kindergarten teacher want this class?' It was because she wanted to learn."
Jennings added that she passed that attitude on to her kids.
"She was always taking time for everybody," even when she was sick, Jennings said.
Cheri Johnson personally experienced it, starting six ago when she joined Yamashita's class.
"It was kind of meant to be when I was transferred from Parkdale," Johnson said. "It was the first time Kim had a full-time aide all year long. That year my mother was going through cancer treatment, and Kim was very supportive of me." That year, Kim was diagnosed, and Johnson said, "that made me really supportive of her.
"Then, ironically, I was diagnosed in June of 1998," with breast cancer, Johnson said.
"There are things that are meant to be. We have gone through the whole cancer thing together," Johnson said. "Kim had books and materials for me, and she was really supportive of me. I even ended up changing to her cancer specialist. We've been each others' dear friends, and helped each other any way we could. I always knew we could talk with each other."
Shalhope, Anderson and Shalhope all said Yamashita became passionate about personal health.
"Kim and I have been advocates for early detection. That is so the key," Johnson said.
"She saw that people who work as hard as her might not be as attentive to their health as they should. She began to tell people to watch out, to make sure they take care of their own health and get checkups and don't skip what they need to do," Anderson said.
Johnson said Yamashita was an avid participant in Relay For Life, walking each year and running the chapter Web site.
"All the quiet things," Shalhope interjected.
Johnson said that Yamashita grew her hair long every year and then had it cut off at Relay For Life in the "Locks for Love" drive, in which donors' hair is made into wigs for cancer patients.
Every year, Yamashita came for opening ceremonies, was among the first in line to get her hair cut, and then walked Survivor's Lap. She did so in 2003.
This summer, Yamashita had planned to help out part-time with Kindergarten testing, and also wanted to get to know the students' families. It turned out she was too sick to participate, but it was proof of her determination, Shalhope said.
"But it was not as if she was not accepting her own condition. It was that she was hopeful through it all.
"She always had hope," Johnson said. "She gave me fresh flowers during her treatment.
"Fresh flowers meant hope, and she gave me bamboo, which was for luck."