Wednesday, December 29, 2010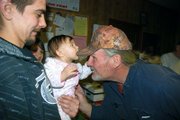 C A R E
The community vision chart might look something like that when it comes to helping a 6-month-old girl who has lost the use of one eye and is fighting to keep vision in the other.
Lolanie Kubitscheck - or, Lola, as the cherubic brunette is called - had her right eye removed at two months because of a cancer known as retinoblastoma, and is undergoing monthly treatments to stop the cancer in her left eye.
Friends gathered Tuesday at Hood River Eagles Lodge, where her parents, Jake Kubitscheck and Shanay Moore, received a huge Christmas gift from the Eagles Lodge: $5,375.50 to help Lola's family with current and future expenses.
The blue-eyed child wears an artificial eye, or prosthetic, in place of the right one, removed when she was two months old. Lola still has most of her vision in her left eye.
To look at her, it's hard to tell which one is the prosthetic one. Lola is a wide-eyed socialite who seems to take in all her surroundings, and clearly loves her grandparents, Martin and Elaine Kubitscheck.
Most of the Eagles' gift was the result of a standing-room-only gathering Dec. 3 at Hood River Valley Adult Center; a chili feed fundraiser for Lola attended by more than 200 people.
"It was pretty overwhelming," Jake said.
"Every table, every chair was taken, and there were people standing around the sides," said Shanay, like Jake an Odell native.
"We really appreciate what the community has done," Martin said.
"We're Eagles. We're here to help," said lodge president Mike Muma.
Elaine said the family also thanks the Adult Center for providing the space for so many people to gather.
The Eagles' gift will help the Kubitschecks pay for living and travel costs as they make regular trips to Portland for Lola's laser treatment and chemotherapy, currently covered by insurance. Replacing the prosthetic will also be an ongoing cost, Jake said.
Lola's acrylic artificial eye is coated in a wax-like substance which helps it fit to her eye socket, and allows some movement of the eye.
Retinoblastoma is a childhood cancer that occurs in the retina. The retina is the area at the back of the eye that senses light. A blastoma is a tumor made up of abnormal and immature cells. It can occur in one or both eyes, and accounts for around 3 percent of cancers in children under the age of 15. It is the only common cancer of the eye that occurs in children; 20-30 percent of children with retinoblastoma having the cancer in both eyes. The child may lose his or her central vision.
Jake Kubitscheck said Lola's condition feels "like a roll of the dice" from month to month.
Two months ago they had an encouraging report on the size of the tumor, "and we kind of got our hopes up," Jake said. But last month, they were told the cancer had not improved; though it was not getting worse.
Then Lola got sick, which postponed the treatments while her immune system rebounded.
"We've been pretty anxious," Jake said.
They're waiting to see how she's feeling for her next scheduled treatments, on Jan. 11, which is the next opportunity they have for a status check on the tumor.
"It's always there in the back of your head," said Shanay.
Donation jars to help the Kubitschecks are available at Eagles Lodge (on Tucker Road south of Portland Drive), Hood River Shell, and Your Party and Rental Center. Call Michelle Westfall at 541-490-2411 if you would like to place a jar in your business.
LOLA'S REGIMEN
Once each month Lola goes to Doernbecher Children's Hospital at Oregon Health & Science University for two-day chemotherapy sessions, along with laser treatments, to remove or destroy retinoblastomas to preserve sight in at least one eye.
Lola undergoes two "drips" the first day, a five-minute one followed by a one-hour session, and then a one-hour drip the next day.
Depending on Lola's growth, she will need a new prosthetic eye about once a year.
Muscle tissue from the back of her legs was transplanted in her eye. The prosthetic eye fits into that tissue and the muscle gradually strengthens and learns to move, though not as much as the functioning eye.