Thursday, December 30, 2010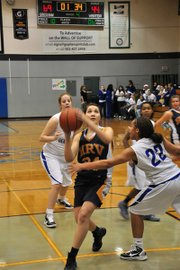 10 Resolutions
That show teens you care
From the Partnership at Drug Free America and Hood River County Prevention Network:
Remember: Parents have more influence on their children than anyone else.
Teach your children to trust you by seeing you as a role model.
Model tolerance, patience, understanding and active listening.
If you always celebrate with alcohol, they will learn to do the same. If you always celebrate with excessive use of alcohol, they will learn to do the same.
Apologize when you make a mistake or do something you regret. Taking responsibility for your own actions is a great teaching tool.
Teach your children about ethics, values and principles they can apply in choices and decision making.
Help them discover the feeling of gratitude, not just the words "thank you."
Keep the promises you make. If you do not keep your word, acknowledge that. Help your teen understand the circumstances or choices that precipitated the change in your plans.
Answer your teen's questions and be consistent. When you notice behavioral changes in them, make yourself available and encourage them to talk about what is going on in their life.
Be understanding when they have a difficult time and let them know you will love them no matter what.
Be diligent. Have ongoing conversations with your kids about the risks of drugs and alcohol, unprotected sex, bullying, intolerance.
If you want more tips on working with your teens, call the Hood River County Commission on Children and Families at 541-386-3335.
Faces and Places
A new year, a new series
What was hinted at in the Dec. 25 paper we make official in this final edition of 2010: After three years, 52 Faces comes to an end. Yet the spirit of this weekly Saturday feature lives on.
Exit 52 Faces, enter "Our Places."
Throughout 2011, Hood River News will tell the stories of places where people gather - emphasis on people.
The series will be frequent, but not necessarily as regular as "52 Faces."
Our pages will continue to feature individual people, including those who exemplified the 52 Faces roster: the little-known and the unsung.
But "Our Places" gives us the opportunity to look closely at the gathering points that are important to the communities of the Gorge.
In this part of the world, "social networking" still involves plenty of face-to-face human contact.
Fittingly, "Our Places" will later this year include the reopening of the library, one of the community's prime meeting places, closed for the past six months.
(See the first "Library Notes" column on this page.)
"Our Places" will address how granges, churches, parks, cafes, coffeehouses and other "watering holes," classrooms, gyms and other places have evolved, and how are people interacting and finding meaning in their places?
How are the office or the barroom - two time-honored human loci - different from 1950 or 1990?
What new layers of life are found in community gardens or yoga studios - places that were anything but prevalent 60 or even 20 years ago?
For "Our Places," We welcome readers' suggestions, at hrnews@hoodrivernews.com, subject "Our Places."
There's a "Where are they now?" element in the wrap-up to 52 Faces, on this week's Kaleidoscope.
As happens in life, people profiled in 52F moved to new jobs, tried new challenges, retired, and died.
In its three-year run, 52F shone some light on a total of about 160 people, considering that while the series emphasized individuals, there were a few times when we featured couples and once a family of four.
The summary on page B1 reacquaints us with the people from the weekly feature in 2010. At this writing, most of them are stationed pretty much where they were when their stories came out.
We mourn the death of Jack Culbertson, featured Feb. 13, a brave and gentle man who is survived by his wife of nearly 71 years, Dorothy.
(To our knowledge, Jack is the third among all 52F subjects who has passed on.)
Changes happen. We look forward, in 2011, to helping the Gorge community understand and appreciate transitions and traditions.