Thursday, December 30, 2010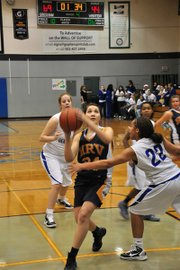 When their league season opens next week, the Hood River Valley girls basketball team is hoping to forget the last few weeks even happened.
Particularly its game Monday against Grant at the Gresham Holiday Classic.
"That's how we've been playing really since Gresham (Dec. 14)," HRV coach Tom Ames said.
The Generals dominated the Eagles in every aspect at Gresham High School and won 73-46.
The Eagles beat Gresham handily in the same gym earlier this month, but in that game Ames noticed a disturbing trend begin to develop: "We're sloppy and that's frustrating," he said.
After beating Gresham, the Eagles then lost two straight, but beat St. Helens by 30 points last week. Even in that win, Ames was not satisfied, believing his team turned the ball over too many times in the second half.
Those worries came to full fruition Monday: After a brief run in the second quarter that saw them pull to within six points, the Eagles never threatened again.
At points in the second half the Generals pushed their lead north of 30 points, taking advantage of poor Eagle shooting and constant turnovers.
Emili Metivier led the Eagles with 11 points, while Jaci Bryant had 10 and Angie Titus had 9. Titus sat out most of the second half after picking up her fourth foul 1:50 into the second half.
"We need to slow down on offense a lot more, clearly," Ames said as he looked at the stat sheet with the Eagle turnovers.
The Eagles were set to play the loser of Sandy/Union (Vancouver, Wash.) Tuesday afternoon and then play a final game Wednesday. After that Ames was hopeful a week and a half of practice would have them back in the form they need to be in come league play.
"We just need to snap out of it," he said.
The Eagles open league play against Hermiston at home Jan. 7.