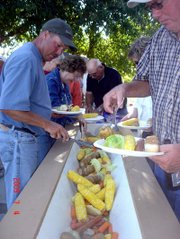 A suspected drunk driver jumped into the Columbia River just before dawn July 4 to allegedly evade field sobriety tests.
According to reports, Michael Gamboni, 27, of Wenatchee, Wash., ran toward the river during a traffic stop about 3 a.m. Sunday. He had been pulled over at the waterfront by Police Officer Don Cheli.
Gamboni had allegedly gotten into a fight with another male earlier that evening while intoxicated. He had reportedly been warned by an officer at that time not to get behind the wheel of a car until he had sobered up.
After being stopped at the waterfront by Cheli, Gamboni allegedly agreed to undergo sobriety tests. However, while Cheli was retrieving equipment from the patrol car, Gamboni reportedly took off for the water.
He allegedly swam about 20 yards from the shoreline and began taunting Cheli. At times, he reportedly hid amongst vegetation at the edge of the river.
Cheli requested assistance from the emergency dispatch center and Hood River County Sheriff Joe Wampler showed up with a boat and a thermal imager. Also arriving to offer assistance were Deputy Joel Carmody, Deputy Jess Flem and Reserve Deputy Grant Porter.
According to reports, Wampler used the thermal imager to pinpoint the location where Gamboni was hiding.
The suspect was then taken into custody and lodged in the Northern Oregon Regional Correctional Facilities in The Dalles.