Thursday, September 16, 2010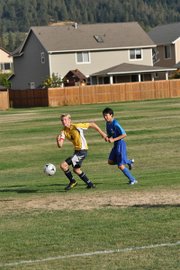 Horizon Christian scheduled a game against the Catlin Gabel JV team as a test to see where a young Hawk team stands early in the season.
Consider the test passed.
Catlin Gabel is one of the top 3A teams in the state, and its JV team used to routinely dominate the Hawks. Horizon was doing the dominating this time, with a 7-0 win.
The Hawks led 4-0 10 minutes into the game and never let up. Brent Rovianek and Aman Mann scored twice each while Ian Rasmussen, Andrew Stenberg and Tanner Petitt added goals in the Horizon rout.
The Horizon defense also completely shut down anything Catlin Gabel tried to do offensively. Horizon goalkeeper Jordan Anderson was left without much to do, saving only one weak shot in the second half. Catlin Gabel's two best chances came at the end of the first half, but both sailed over the goal.
"We have that strong defense and now they are pushing up," Horizon coach Oscar Stenberg said.
Up front, Stenberg, Rovianek, Mann and Sarah Clark coordinated the Horizon attack, leaving Catlin Gabel in a constant scramble to keep up. Even when the Hawks substituted in their own backups and JV players, the onslaught continued.
While the second-stringers may not have accounted for any goals, they kept the pressure on and had several good chances broken up at the last second. The Hawks host Trout Lake Wednesday, looking to avenge a loss from last week in which the Hawks were missing several starters.
The HRV boys played at Sunset Monday night and suffered their second defeat in a row, falling 1-0 to the Apollos. n The Eagle girls lost 3-1 at Aloha, with Emily Ing scoring the lone HRV goal on a penalty kick.