Tuesday, September 21, 2010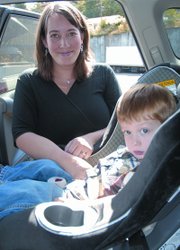 For Elizabeth Stillwell, safety is something you can harness.
"It's really nice to help educate people," said the three-year Odell resident, who volunteers as a car seat safety instructor for the Hood River County Commission on Children and Families.
Stillwell and others will be on hand today at the Walmart parking lot, 9 a.m. to noon, for a car seat safety clinic.
Today's event is free and Stillwell urges anyone who uses a car seat for their child, no matter the age of the child or the seat, to come have the devices checked out.
Stillwell started volunteering with the child seat safety program two years ago, shortly after her son, Brenton, was born. Elizabeth and her husband, Richard, a Google employee, are expecting their second child in January. Stillwell grew up in Orange County, and attended San Jose State for her video production degree, with a minor in child development.
The family moved to the Gorge three years ago, living in The Dalles for a few months before buying a home in Odell. They attended a "Family Day" at Google, sponsored by the Commission, and Stillwell realized her niche.
"I approached Joella Dethman (HRCCCF director) and said I would like to volunteer," Stillwell said.
"My mother was an emergency room nurse, so I grew up hearing about this," she said, referring to her mother's stories of adults as well as children who were severely hurt, or killed, in vehicle collisions.
"I realize the force of a car and what can happen when it travels at high speed," she said.
She stressed, however, that the need for car seats is anytime the car is moving, not just at high speeds.
"We want people to realize the importance of buckling up, even if they are 'just going to the store' or 'only going a few blocks.'
"Everybody wants their kids to be safe," said Stillwell. "After we do a clinic, we often have some really appreciative parents.
"I see it as, 'How many people did we see today?' That's how many people whose kids are now going to be safer in their cars. If they do even a couple of the things we show them, then those kids are safer than they were."
To Stillwell, there are two basic information needs when it comes to equipping your child with the proper vehicle safety restraint: child seat vs. booster seat, and proper adjustment of seat, straps and buckles.
"You have to have the correct seat for the weight and age of your child," she said.Then there is the fact that designs of car seats, as well as cars, are ever-changing. A car seat bought for one car might not be the best for another.
"Every car seat and every car is different," she said.But the need to check for safety can happen within the same car and after just a few weeks or months, Stillwell notes.
"You can get a seat, and the kid uses it for awhile, and it smooshes down as their weight changes, and it needs to be readjusted."
Stillwell also points that strap adjustments get altered when "grandparents or the in-laws" transport the child. The result: The child is too tightly or loosely restrained.
All these things point to a simple rule: Make sure you are using the seat as it is designed, and that seat adjustments are right for your child.
"It's good to regularly check it. It's good to be prepared," she said.Stillwell said she is enjoying life in the Gorge after a more hectic pace in California.
"It's good to be able to slow down and take a look around and realize things such as how pretty this entire area is," she said.Stillwell's role with the commission is about to expand beyond the car seat program. She has been nominated to serve as a member of the commission itself.
"I think I can bring that perspective of the parent of young children," she said. "I'll be able to communicate that to the commission, and inform them on things that are needed, and to things that are going on the community, as well as communicating back to other families the work of the commission."
That will mean a few more meetings to drive to, but always with herself, and her children, properly buckled in.