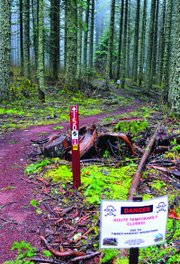 A blank slate.
That's what Lori Stirn, Hood River Parks and Recreation District director, calls the 34-acre plot the district owns at the corner of Barrett and Alameda roads. And, although limited by the land's Exclusive Farm Use zoning, what is added to that blank slate will be largely up to Hood River County residents.
HRPRD is hosting an input meeting on Tuesday, April 5, to gather ideas from the community and hear what people would like to see in the new park. The meeting, at Hood River Valley High School, will be a chance for people to share ideas, voice concerns and ask questions about the future of the large corner lot that was, until last fall, acres of apple and pear orchards along Indian Creek.
"We're looking to the community; for people to tell us what they want to see out of this new park," Stirn said. "The property is sweet; two sides are bordered by Indian Creek, there are mountain views and main roads that provide easy access. We want ideas from the public so we can determine how to meet the needs of the people who will use the new park."
Stirn said the district expects to get working on the park this summer when the soil dries out, but a lot of this year's progress will be basic cleaning up and dirt moving. Until last winter the lot was a working orchard, with about 18 acres of apples and 8 acres of pears. The trees were ripped out late last year to avoid complications involving a grant agreement with the state.
The district purchased the land in 2007 with the help of a $325,800 grant from Oregon Parks and Recreation Department. One requirement of the grant is that HRPRD has to ensure the land will be used exclusively for park and recreation purposes.
The agreement stated that all non-recreation uses on the property must be terminated within three years from the date of the acquisition. Thus, although specific plans for the park haven't been drawn up, the land was cleared of the orchard within the three-year period required for the grant.
Rumors quickly circulated around town of soccer and baseball fields, tennis courts, even sports complex in the works for the property. Rules tied to the property's EFU zoning, however, means the district, and the community, is limited to what can be built and what activities can take place on the land. A sports complex: definitely out. Baseball fields: not likely. Soccer fields: possible, but with limitations.
Several examples authorized uses on EFU land are public parks and playgrounds, day use areas, picnic shelters, barbecue areas, play structures, trails (walking, hiking, biking, horse), community centers, fenced informal play area for dogs and community-sponsored agriculture.
"I have already received 12 dog park requests," Stirn said. "We've also heard from people interested in a cyclecross course, community gardens and an area for radio-controlled airplanes. We're really hoping to get a variety of ideas, from a variety of users at Tuesday's meeting. The park really is a blank slate, and what goes on it depends on what people tell us they want."
Also on the list of authorized uses are open play fields. A dedicated sports field - like a baseball diamond - wouldn't fall into that category; but an open field with portable bases, or portable goals, probably would.