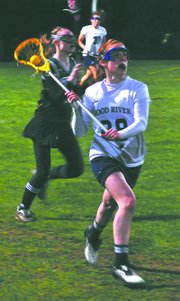 If the Hood River Valley girls lacrosse team is trying to fly under the radar, this week did not help that cause.
Two days after nearly pulling off an upset of state power Oregon Episcopal, the Eagles thrashed Cleveland 18-10 Thursday night at Henderson Stadium.
"We are playing as a whole team," attacker Makenzie Bassham said. "We are excited to play together."
The Eagles dominated the Warriors in all aspects, leading by double digits for most of the night until Cleveland was able to cut into the gap with some late goals.
Bassham and Kymie Costello scored five goals each to lead the Eagles on offense while Margaret Gleasman added three goals and four assists.
On defense, goalkeeper Christian Silva-Perez stopped 12 shots and Alicia Everitt collected four ground balls.
"This game really showed the strength of our defense," coach Peter Nance said.
Nance praised Kayla Schurton for coming up from the JV team and doing solid work on defense for the Eagles.
The only Cleveland player able to get anything going for the Warriors was Ally Bowman, who scored six of their 10 goals.
After reaching 18 goals twice in their first three games and very nearly knocking off OES Tuesday, the coach and players agreed that the expectation level had been raised for this year's team.
"Our captains really said these are the expectations for this year and we are going to stick to them," Bassham said.
The Eagles did what they were expected to do against a lower-level team like Cleveland, and very nearly did what was not expected of them against a top-tier team in OES.
The Eagles were within a goal or two of the Aardvarks for much of the game until OES managed two game-clinching goals in the final moments to win 14-10.
Gleasman and Costello scored three goals each against OES but it was not enough to get the win.
"I don't think we are in that upper level yet," Nance said. "But we are certainly in a steep climb."
The Eagles were to play Tigard, whom they beat 18-8 in their first game of the season, Friday night.